Review of a few places for coffee
in the arts district of Singapore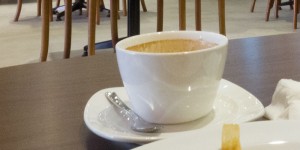 There are three places that I have frequented in Singapore when in the need for a non-asian snack and a good coffee. These cafes are in the arts district around Bras Basah Road.
DOME cafe is next door to the Singapore Art Museum (SAM) on Bras Basah Road – outside Bras Basah MRT.   For previous visits this was the only place to go in this area for a good coffee and english breakfast. The coffee is quite reasonable, a little cooler than it should be and a bit expensive at $5.00. The food is variable but reasonable. While the inside is cooler, they also have outside tables. The inside can be noisy. Service is efficient and friendly. Click here for menu
I recommend DOME – with a rating of  7 stars/ out of ten.
La Salle Art School has a very good cafe, called Lowercase – which is sometimes full of students! The coffee is good and they sell croissants but by the Austrian name – kipferl .  Their breakfasts are good. Sometimes they have the music up too loud. It is counter service and is very good. There are on Facebook – click here
update: the breakfast  eggs at Lowercase is good – being nicely cooked and not too large. They are also do a very nice mushroom pasta meal. But watch out for evening meals on Friday and other days as the venue sometimes hosts loud live bands.
I recommend Lowercase – at La Salle Art School – with a rating of  8 stars.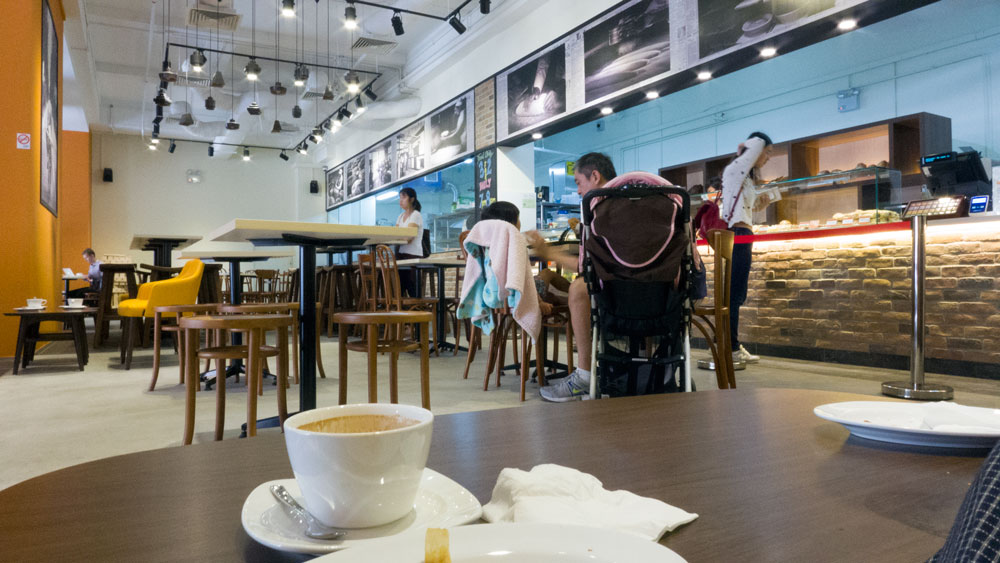 Originally I had said that the best of the three for coffee and croissants is to be found in a brand new cafe/bakery, 3 Petits Croissants, (closed Mondays).  3 Petits Croissants is located near the intersection of Bras Basah Road and Prinsep Street inside the covered walkway besides the School of Art on Prinsep Street. The coffee is large, hot and delicious, and only $3.20. The croissants are the real french variety. They also sell real baguettes! They have lots of pastries – all made on the premises. One word of warning – the quality of coffee does vary from day-to-day and they seem to be slow at making it. One day the coffee is nice and hot, and on others it is cooler. I prefer the hot coffee days. The place is a bit bare and noisy and they play the music just a little too loudly. They missed the opportunity to re-create a French pâtisserie atmosphere. I hope that one day soon that they will do the normal baguettes for lunch with some ham, lettuce and soft cheese (brie or camembert).
updated:  3 Petits Croissants have counter service and this can vary from very friendly to more detached check-out style. I had given them the benefit of the doubt and had rated them as 8/10 – but the last two visits the coffee has been cool – and the service was OK. The last time there, we asked for a glass of water and it was refused and we had to buy a small bottle of water for $3.00 (the croissants are $2.40) – and even then they were reluctant to supply a plastic cup.
update: for lunch they do a very nice wholemeal roll with salad – which can be hard to spot as it is usually hidden amongst the pastries – but is a jaw breaker to eat. I really wish they would do a real baguette salad roll.
I recommend 3 Petits Croissants – with a rating of  7 stars.
————————————
any of the above could be changed as we experience more of their service.
———————————–
Paul Costigan, updated 10 October 2014