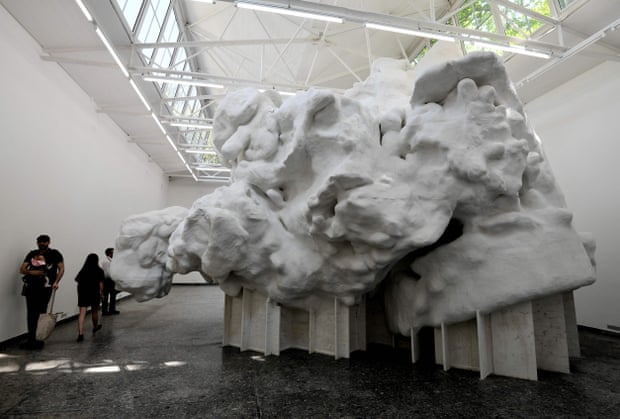 Architects like to think that they are artists – and they work to achieve this by 'amazing' the world through very expensive stands at the Venice Architecture Biennale.
I think this quote sums it up:
As the architectural equivalent of the Eurovision song contest, the Biennale giardini is always a ragbag of the kooky and curious, with one-liner installations deployed as a way of capturing visitors' attention before assaulting them with reams of meaningless wall text and dense diagrams. This year is no exception, but there are a few stand-out gems amid the cacophony.
Click here – or on the image above for the story from The Guardian.
The theme of this Biennale was more along the lines of – to explore "the social, political, economic and environmental end of the spectrum".
And Australia's contribution? read this and wonder
The Pool by Aileen Sage and Michelle Tabet was chosen by the Australian Institute of Architects' Venice Biennale Committee for its 'incisive interest in the connections between landscape, culture and architecture as observed through the frame of a singular architectural and landscape typology'.
Visitors will be transported poolside through an immersive multi-sensory experience within the new Denton Corker Marshall-designed pavilion. Light, scent, sound, reflection and perspective will create a series of perceptual illusions, bringing to Venice a suggestion of a particular Australian architectural condition.
Just in case you missed it – it is a small swimming pool! Great! That really addressed the theme!
And guess what? They funded it through a Catalyst grant – part of money stripped from the Australia Council at the costs of the future of arts practice. So instead these arts  were used to support architects in their efforts to promote themselves.
OK! Here's a less critical review – but despite the reviewers best efforts – that whole thing still sounds a bit naive – if not dull.
——————–
Paul Costigan