Review: Landscape Design  and Vertical Garden
A-Mazing Vertical Garden, Da Nang City, Vietnam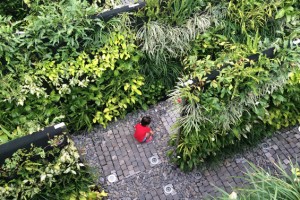 I came across this garden when looking through the short listed projects for the World Architecture Awards to be announced in Singapore in early October 2014. At first I was very impressed with the technical qualities and that it was a form of the old fashioned maze, but done with plants in a more sustainable manner.
I later searched for more on this and realised that it was very much a decorative maze in a resort in Vietnam. The resort being a re-use of a former French colonial resort. Below I have given a report on this garden from World Landscape Architecture.
Click here for the report on World Landscape Architecture
Click here for TA Landscape Architects
See the video below – which puts the garden in context of the whole report.
As to this projects contribution to sustainable settlements, based on the online reports, this would be questionable. So it will be interesting to see how the architects judge it given their historic bad record on sustainability in their awards.
Here's the link to short-listed projects for 2014 World Architects Awards – click here
—————————————–
Paul Costigan, 7 July 2014