Review: Book
50 People Who Stuffed Up Australia; by Guy Rundle & Dexter Rightwad, 2012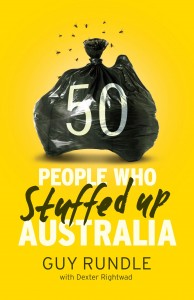 Sometimes I really like Guy Rundle's style of commentary. But I have to admit that at other times I find I just do not get engaged and do not finish reading his regular online comments and essays.
The latter applies to this book. I just did not take to his style on this subject. It seemed far too exaggerated an effort to bring about a list of 50 well-known people and to twist the stories to class them as people who stuffed up Australia.
Of course amongst them were some that I just love putting the boot into, but even here there was not too much original humour. After reading several chapters, I then jumped around and read maybe a dozen more, then put the book down. It has stayed there ever since. It probably will not be picked up again.
The advantage of their chosen layout is that you can dip into any chapter and jump to any other. Each is short enough for a quick read. To be fair, all sorts get picked on, not just the usual suspects.
I suspect that many people will enjoy this far more than me. But for now, the humour and writing style  just did not hold me long enough.
————————————–
Recommendation: Rating 5/10
————————————-
Paul Costigan, 7th June 2014.