Andrew Barr to win – again?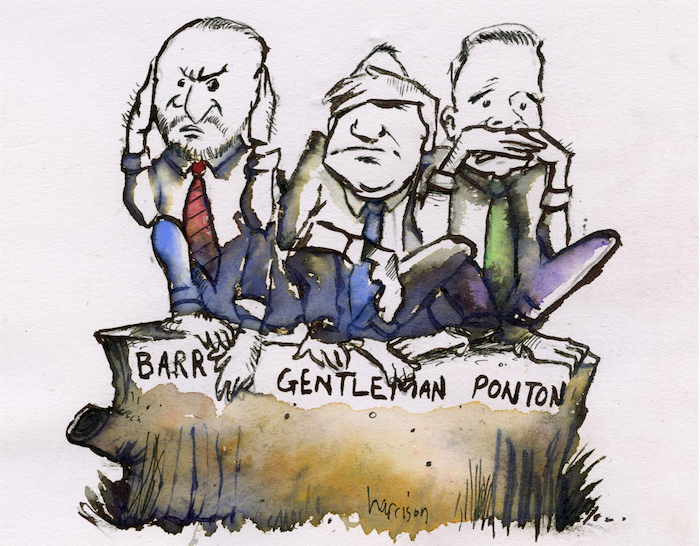 It's an interesting exercise to commission a friend to draw a cartoon of the three people (two politicians and one bureaucrat) who are largely responsible for Canberra's planning and development.
The common perception of these three is that if you try to contact them, you will soon learn that they do not want to see you, they do not want to hear from you and they do not want to speak with you.
Planning Minister Mick Gentleman should be the key politician with the vision for the city. Have not seen it yet! In response to letters from residents, his staff write tomes for him to sign that say little of any consequence, thank you for raising issues and politely tell you to go away.
Gentleman seems to occupy this position so that others can deal with that pesky stuff around planning and development. From the little we know of this bloke, he will not change.
Trying to describe chief planner Ben Ponton was not easy. The common view would be that this senior planning bureaucrat has lived forever within the walls of the planning building. He enjoys constantly adding variations to the planning laws and things have become so bad that even the Chief Minister agrees the planning laws needed to become simpler and accessible.
The problem is that the person appointed to carry out this change is the chief planner himself. He is presently doing this very slowly.
Maybe one day soon, a visionary planning minister (dream on) will require his planning chief to engage with the electorate, to be interested in planning being based on evidence and on the realities of people's lives and their aspirations for their children.
Two monkeys down and one to go.
That would be much-maligned Chief Minister Andrew Barr. He has spent most of the last decade being a 30-something hipster. He seems to want to live in a modern city just like other crowded metropolitan cities. Because of this or more simply because of what appears to be his neo-liberal conservative side, he allows developers to build – to my mind – questionable apartment towers across town.
Given that he lives in a stand-alone house with a garden, is it too much to ask for him and his ACT Greens partners to ensure that others have the same opportunity?
As Andrew approaches the ripe age of 50 years, is it possible that he may think twice about the influence of the ACT's notorious planning bureaucrats and the profit-hungry developer lobby?
What will it take for Andrew Barr to realise how easy it is to work with residents and through that partnership, have a city that all of us could be proud of?
After all, the Chief Minister has shown a good side of late. While taking the advice of his Chief Medical Officer, he has handled the covid crisis reasonably well. He has stood up against the conservative voices from some ACT Liberals to open up the city as fast as possible – despite the pandemic being ever present. In mid-July he rightly criticised Geocon's outrageous apartment proposal for the middle of Kingston.
Here's a little mischief. Let's reimagine Andrew Barr's words about Kingston and apply them as if he was talking about the whole of Canberra: "While this government supports residential changes that increase local economic activity and support the viability of local business, development proposals go too far and do not meet the equally important goal of protecting what makes Canberra a special place to live and visit."
When considering the three monkeys in the cartoon, the curious thing is that Andrew Barr may be the only one who has the potential to become more humane and responsive in his treatment of people, the city, and how urban development can deliver a place for future generations. Is that too optimistic?
——————————
This article is a version of the piece originally published online with City News
Paul Costigan is an independent commentator and consultant on the visual arts, photography, urban design, environmental issues and everyday matters.