Review: Book
100 Canberra Houses: A Century of Capital Architecture / by Tim Reeves and Alan Roberts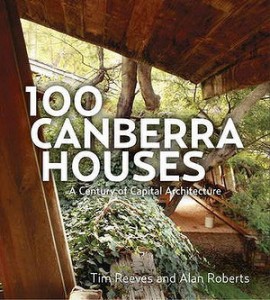 This book about housing in Canberra is welcomed by those amongst us who would love to see more good design in the provision of houses in Canberra. Much of Canberra, as with most places internationally, is presently being devastated with loads of new badly designed suburbs as well as very awful blocks of cheaply rendered apartments being foisted on the older inner suburbs. The authors of this book are to be congratulated for illustrating that the architecture for residential properties can be something to be enjoyed.
Hopefully the book will be of interest to people outside of Canberra with an interest in social history and the connections to Architecture and the history of the Australia's capital.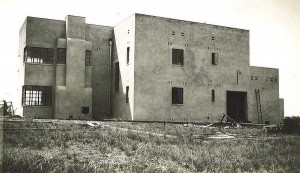 As the title suggests, this is one hundred years of domestic architecture starting with the first huts, through the building of the first suburbs, public housing, university student accommodation, significant buildings in the older suburbs as well as later architectural achievements.
The book is very well laid out, has accessible illustrations and photographs and has been presented through six periods from 1909 to 2013.
If domestic architecture is your thing, then this is definitely a book for your research bookshelf. I would imagine that anyone who has been significantly represented in the selection would have already made the purchase. University program staff would have to have a copy.
Other than that I fear the book will go the way of other vanity publishing efforts, whereby architects or groups of same have published books about their wonderful achievements in the hope that others will be interested. This book is a good reference book but I am not sure beyond that who will be buying it.
The book will certainly serve as a valuable reference book that may be used in conjunction with Andrew Metcalfe's excellent reference Canberra Architecture – reviewed earlier – click here.
Another valuable reference is the online site,  Canberra House, Mid-century modernist architecture – click here
I borrowed a copy of 100 Canberra Houses to review it, so I have to admit that I did not buy one. But despite all those doubts, for those who are interested in this area of research or want to know more about some of the houses you walk past or that are to be found in your suburb – yes, I do recommend that you have a look at this well written and accessible publication.
The publishers, Halstead Press, did a good job. Well done all involved. But I did wonder about the choice of cover image. Was the choice made to downplay architecture and to have it look more like a coffee table garden book?
Footnote: I did pick up a little sour note or two about how the architects just cannot engage with residents' groups.  This is shame, as I have often noticed that too many architects back away from being involved with residents groups and then wonder why residents are wary of the architectural professions and view them not as designers who care about established suburbs but as agents of some of the developers and planning authorities – and yes residents know that not all developers are nasty – as for the planning authorities, that's another story!
——————————————
Recommended: Rating 8/10
—————————————–
for more on architecture – click here
Paul Costigan, 23 June 2014