Stories: from the Guardian
a small town battle against the odds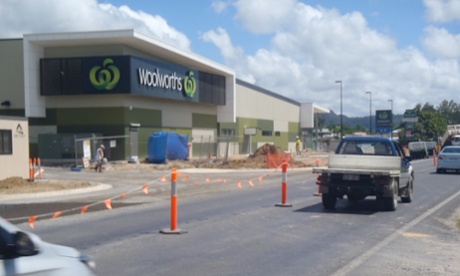 There are many situations within Australia, whereby the community takes umbrage at local planning decisions. It is not unusual to find that many of these disputes are focused around the local shopping centre. And again within those arguments, how often is that the issue is to do with the dominance of the two major supermarkets?
A wonderful case has just been reported in the Guardian about a far North Queensland's town battles to have control of their own local shopping environment. Yet again, the system is working against the locals.
Surely it must be possible in the 21st Century that such basic planning decisions should be about locals and their priorities. We all know about the 'greater good'.  Part of the greater good must be the health of the local community.
Planning authorities need to start to understand that if engaged fully, the locals can guide intelligent decisions about their own amenities. Here in Canberra this ideal is still a dream. Our wonderfully patronising planning authority would much rather make the decisions for the community, and if the community is foolish enough to object, then they are forced to spend huge amounts of resources fighting the decisions through the complicated and biased processes of the local disputes tribunal.
It has been pointed out that so much time, money and resources could be saved through real engagement, but still this simple message is far too complicated to be comprehended by those in the ACT planning authority.
I hope that someone will soon calculate the costs to the community purse of all these questionable decisions, and how much could have been saved by engaging honestly and intelligently with the various local communities.
I suspect one day there will be a class action and maybe this will be linked to an insurance claim. Such action will hurt the purse strings and careers of the short-sighted bureaucrats. Then we may see change.
The processes of community engagement (click here) are quite simple. Such community engagement leads to good outcomes and in the long run enhances the health and wellbeing of the community. I am also sure that the job satisfaction of the planning bureaucrats would also be enhanced.
I definitely admire communities that insist on being the ones to drive the planning decisions.
The community of Mossman's story is worth reading and supported. click here.
and
a story from the UK on the fate of the UK big box supermarkets – click here.
———————————————–
Paul Costigan, 23 March 2014