Notice: Visual Arts
Perth Festival: BALI: return economy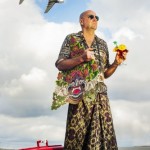 For a link to this exhibition – click here
Now there's a place I intend not to visit. But so many others do so.
Bali was colonised by the Dutch very early on and since then it has been the subject of change. From the start of the invasion the Balinese learnt to create artifacts to sell to the incoming tourists and to foreigners doing their own scientific and exploratory work.
Like so many other places, the local culture has now been suppressed behind the facades built to entertain and please the foreigners, who have money to be spent.
This happens not only in Bali, but almost in ever place on earth that takes on tourists as a means of income.
Artists have a role to examine this phenomena of tourism. We need to be making comment and discussing this universal process whereby a local culture transforms to meet the aesthetics and requirements of the visiting foreigners, who are so often a dominating cultural force.
This show is based on the fact that Perth is closer to Bali than most other places within Australia and hence there has been exchanges going back decades between these two places.
However I did worry about one statement made by the curator: Viewers looking for the "real Bali" will be disappointed as there has never been such a thing. Sorry, I have to disagree, the real Bali may have disappeared from the tourist's gaze with the arrival of the white foreigners about two centuries ago. One wonders whether this statement is another example of a dominating culture providing only limited recognition of another culture because it has been deemed to be no longer pure.
The catalogue for the show in online if you are not making your way to Perth for the Festival.
—————————————-
Paul Costigan, 20th February 2014