Commentary: Articles by Michael Moore of Canberra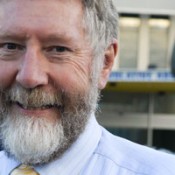 I have mentioned articles written by a local, Michael Moore. While he holds down a very busy job in health, he continues to devote serious time to punching out thoughtful articles in one of the local free newspapers. They are most welcomed.
Recently Michael wrote a good piece in response to all the talk of tougher surveillance by our now lunatic federal government. While he titled it: Why we need to be saved from Facebook, the real focus was that the role of government should not just be about checks and balances on their own agencies. They also need to protect ordinary people from a further insidious, creeping blight on our freedoms that is permeating the lives of millions of Australians. click here
Of course I suggest that anyone, individual or organisation, that uses Facebook must be questioned. Why would you sign up your information to someone's commercial marketing tool that makes you the subject of their marketing?
If you would like to see more of Michael Moore's articles – click here.
Well done Michael Moore of Canberra!
——————————————–
Paul Costigan, 16 August 2014