Canberra Urbanity: Breakfast
A list of places to have breakfast
We intend here to visit  suburban cafes during 2014 for weekend breakfast/ brunch; we live inner north, so it will be those within easy range. So watch this space as the list grows!

———————————–
Red Brick Espresso, Curtin Shops, Canberra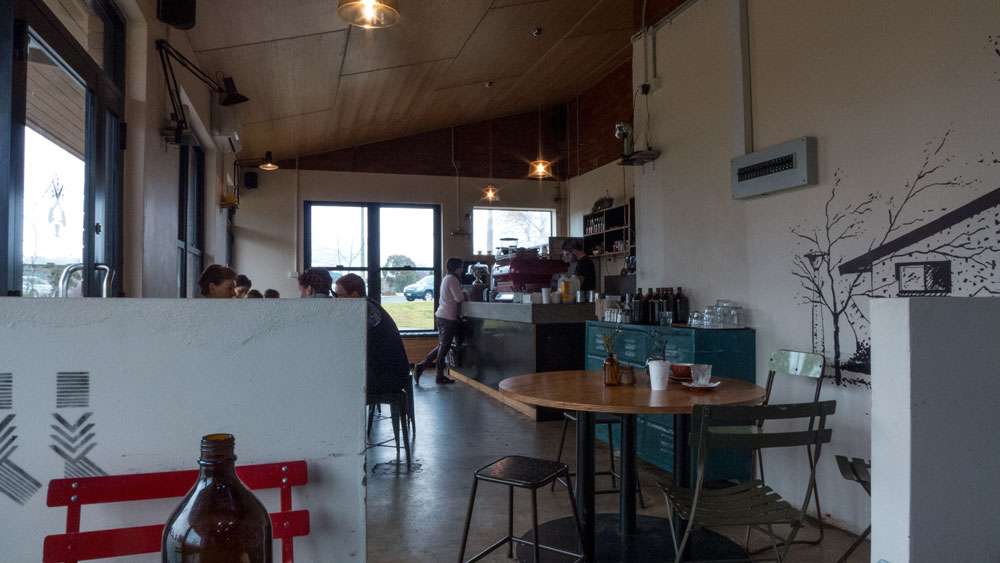 It was a freezing cold morning (Thursday) that I met with friends here for a coffee and I took the opportunity to try their breakfast.
It was indeed a freezing cold day – even for Canberra. Nobody was daring to sit outside. The photograph above was taken as I sat down. The place quickly filled up after.
The atmosphere was noisy with the airwaves being crowded with cafe boof music and the sound of children doing their thing at the other end. The architecture of the place was hard so sounds were exaggerated. However despite all that the noise levels were bearable. That is, you could hear your own conversations.
The coffees arrived fairly quickly. The coffee was not the usual taste. They have their own brand. It was interesting! But it was not all that hot. This was disappointing.
I was going to order the baked eggs but at the last-minute choose the Tortilla Pocket filled w free range scrambled eggs. This was a curious thing being a hard piece of folded Tortilla with the scrambled egg inside with another unlisted substance, which may have ben mushroom based. It was OK.
We stayed for about an hour and were left alone to talk – which was good. The tables were not in demand so our longer stay should not have worried anyone.
My rating is not high but I do intend to revisit on a sunny day to see how it operates – and this time I may order the baked eggs.
Recommended: Rating 6/10 (will return to try again on a fine day) July 2014

———————————–
Hudson of Dickson, Dickson Shops

There are three cafes in this location, with Hudson's being in the middle. I have been to Hudson's too many time to recall. It is Hudson's in name only – in that the original owner moved on years ago and the present owners retained the name.
The service is always friendly and very good and this cafe always delivers. Hence it is popular with locals.
We arrived for mid morning breakfast on a Monday. The place was busy – and please note that you need to go inside to order.
Coffees arrived fairly quickly and were very good (good). The food arrived soon after. The mushrooms on toast that I ordered was a generous serving and was very good (very good). The other order was for the Pumpkin Tofu Patties and salad which was delicious (very good).
The atmosphere is always cheerful; can be noisy inside – but that depends as always on whether children are controlled.
In the past we have had many breakfasts here and they always deliver yummy and classic style food. It is totally recommended. It is a good place to meet friends.
Recommended: Rating 9/10 (will always return)
———————————–
Tosolini's, Corner London Circuit, West Row, Civic

I have been to this cafe over the years far too many times to even ponder counting. Manly for coffee and the occasional meal. I used to eat their cakes, but with age, and dangers of putting on weight, the cakes etc are no longer for me.
Today we arrived about 11.30. There's breakfast on the weekends till 3pm (very good).
Most seats on the street were full, the seating outside by the windows was empty and the inside had one table taken. I have found on previous occasions the street traffic can get a little annoying, and given the absence of anyone by the windows, we opted to sit there. The trouble here was the boof boof music is too loud (not good). We sat as far away from the speakers as possible and it was OK. A rating point is lost for the lack of pleasant ambience caused by the loud music. If musac is necessary, suggest that the music be changed and toned down to be more background music.
The service was very attentive and very friendly (very good). The menu has a good range of choices (good). My partner had the Salmon Breaky, $ 18.90, being scrambled eggs with smoked salmon, sautéed mushrooms and
avocado. It looked very good and nicely presented; apparently it was good but nothing special. I went for the Bruchetta, there being three choices. Mine being tomato, olive, basil and haloumi cheese $16.50. It was tasty and good (Good). A little more basil would have been better.
Coffees were good (good) and the fresh apple and ginger fruit juice was very good.
Their cakes always look good – but no cakes for us.
Recommended: Rating 8/10 (will return)
———————————-
Pork Barrel, Near Old Parliament House

Arrived about 12.15 and the sun was shining. The place was quietly busy with plenty of options for seating inside or outside under the trees.
There was no special breakfast menu. Before we ventured over there,  we tried to check the menu and to see what times they had for breakfast. We knew they were open on the weekends as we had driven past many times. But alas, their website has only the weekday menu and no sign of any special weekend breakfast hours. So I suspect the menu is the same every day. So we opted to explore other options.
The cafe building is an annex to the larger restaurant, the Lobby. The structure is a curious one, being almost tent like with cafe features. I suspect by being in this form, it was allowed under the very bureaucratic National Capital planning guidelines (don't get me started on these!).
I have been here before but on a weekday. It does get busy then with local public sector workers as well as tourists.
The atmosphere is very casual (good). You order at the bar (OK). The food choices are reasonable (good).
The service was matter of fact (can be good as there are little interruptions).
The people serving the tables on this day were quite indifferent. One was so out of it that she delivered utensils for two to a table of three; and then returned with food for two. The three people pointed out the obvious. Just then the two people at the next table started signalling that the order was theirs. So finally waiter worked it out.
I have to say that my order of the lamb and mint pie with wonderful side vegetables was very yummy (very good). The other order of a veg tart with accompanying pear and salad was OK, but not special (OK).
There is no fresh juice, so we skipped that (bad). The coffee was acceptable but nothing special (OK).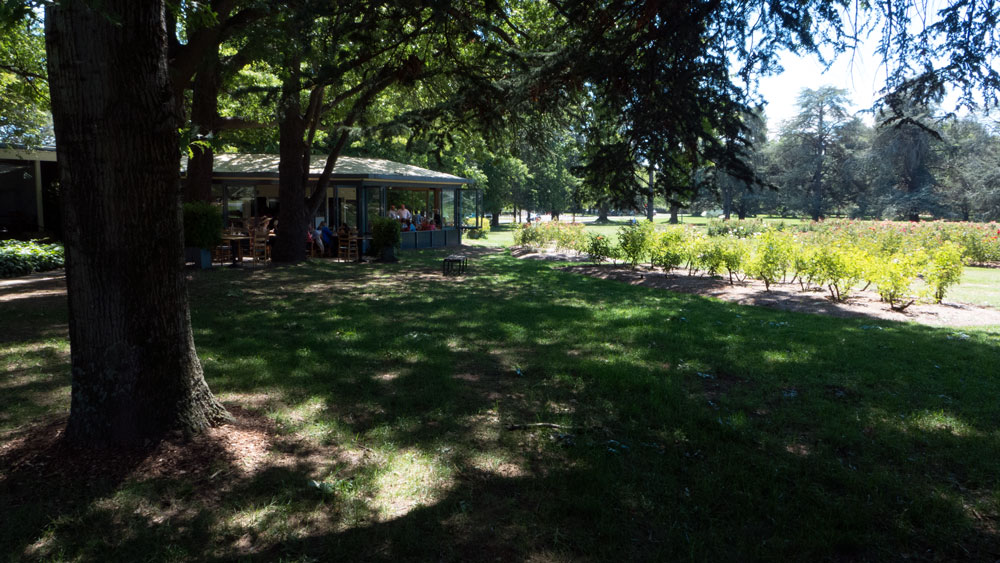 A big plus is the location and the openness of the venue. You look out onto the rose gardens and beyond and if you are outside, you are seated under very large trees (very good). There is no loud music and you have options for seating; by the windows or outside being recommended.
The rating is mixed. My food was very good, others looked OK. People rave about the pizza but I have yet to have pizza for a late breakfast. The view and outside atmosphere is worth a bonus point. The service is basic. A bonus is that they are a bakery and their breads are good.
Rating 7/10 (will return – hopefully next time to try the breakfast)
—————————————-
Wilbur's Cafe and Bar at Hackett
Arrived about 11.15 on a wet Saturday. There were not too many people in the cafe and plenty of options for seating outside, in the main bar or in the main dining room. The atmosphere was cordial and modern. Nothing too special but upmarket for a suburban cafe. This place is a cafe and bar so the decor may look different at night time. There was music at an annoying level in the main bar area but none in the inside dining area (good).
The acoustic are basic , so it was very easy to hear about someone's girlfriends problems from two table away (bad). The person speaking had one of those voices that carried. And it did. Luckily they departed after ten minutes or so of our arrival (good).
On a good day, the main dining area is open to the outside through cafe folding windows. We opened them to allow for fresh air. (good)
The menu is good for breakfast. Nothing super special but all the basics are all there (good).
The fresh orange juice is fresh and tasty (good). Coffee was good, but not special but far better than many others (good).
Poached eggs, tomato, spinach and mushrooms (minus the hollandaise sauce) was as good as it gets (good). The other was a Mediterranean omelet, which was very tasty. Service was attentive and friendly. (good)
The rating reflects that all was good; nothing special about the menu, but if you require an easy breakfast , with ample choices, and somewhere easy to get to and to meet – then yes, this is recommended.
Rating 7/10 (will return)
—————————————-
Deakin: Double Shot
Arrive about 12.00 pm Monday (public holiday). Breakfast served till 3pm on weekends and public holiday  (very good).
I have been here numerous times for coffee and snacks and have always noted that it is usually busy. That is, busy but with spaces usually available, either out front, inside or in the back room. On this day, it was busy again.
The most annoying feature is the music; which is that particular coffee shop boof boof musac. This noise competes with you for the conversation you are trying to have. Anyone with a hearing device would be seriously disadvantaged. (bad)
Service is always attentive (good). Orders usually taken quickly (good), coffee arrives quickly (good) and plates taken away (good).
The atmosphere is good and full of conversations and people meeting for social and business reasons. A good vibe (good)
The fit-out is contemporary and comfortable. (good)
On this day I ordered the Buschetta, which had peaches as its main ingredient; no tomatoes. It was delicious. (very good). My partner ordered the baked eggs. All the ingredients looked good, but the eggs were drowning in an ordinary tasting sauce. (not so good). The rest of the menu looks interesting (very good).
Despite some easily fixed problems, it is a good place to meet friends (very good). Shame about that loud noise, pretending to be music (very bad).
Rating 7/10 (will return)
see update below
—————————————-
Deakin: Double Shot (2nd Review)
I have an earlier post on the this cafe   – see above
I have visited this place often and have to say that is often quite busy with social groups, business meetings and all sorts of gatherings.(good)  The music is too loud for easy conversation (bad).
This place has now an established reputations as being the gathering place for  yummy mummies. They take over sections of the cafe and talk loudly across the tables to friends and allow their children to use the place as a playground. (annoying!). I have had to move tables to continue conversations and not be surrounded by other people yelling at each other. Yummy mummies in large groups are to be avoided.
On this day we arrive about 11.15 am Thursday. The yummy mummies were present especially out back – but those in front were in the process of leaving (thank god).
Breakfast was till being served (very good). Service on this day was too attentive – the waiter insisted on taking orders before we had even sat down – we resisted her several attempts and then were ignored for a while. (bad). Another waiter eventually attended us. The coffee arrived quickly – but it was not hot. (bad) I ordered the carrot & potato rosti stack, described as oven roasted tomato, buffalo mozzarella, chard & red mojo sauce – $16. It was well presented but the overcooked battered stack had lost any taste due to being nearly burnt (bad).
As we were wanting to talk more, and the coffee was not good, I ordered a lemon/ginger tea. It comes on a very heavy board (why?), with a pot of hot water and a tea bag. After much effort, I could not get a strong taste; that is the tea was weak to the extent of being almost tasteless. I suspect the water was not hot enough. (bad). But to ask the obvious – why not serve real tea?
So in this case I have to report that there was little about this food experience to warrant any form of positive recommendation.
Some warnings: watch out for the yummy mummies; demand hot coffee and avoid the tea. As for the food, try something else – I remember the bruschetta as being good. The boom boom music is a nuisance (not pleasant). The former waiters were friendly – the ones on this day were disinterested. Maybe try somewhere else.
Rating 4/10
—————————————-
Campbell: HULLO Cafe
Arrive about 12.20pm Saturday. Breakfast served all day on weekends (good).
A little noisy as one dad was seated inside reading and had sent the two young children outside to play with bats and balls – which they did and occasionally ran amongst the tables chasing the ball. (bad)
Both ordered a particular omelet, but this was off today, so we ordered the Spanish omelet. Cam with plain bread (not good), not buttered (good) and a rolled omelet which was not spicy and had cheap oily meat within (not so good).
Service was basic, although it was not very busy.
The coffee came quickly (good) and was ok, not anything special (OK).
Atmosphere, sitting outside, was very ordinary. (not so good).
Yes, they did ask, 'how was everything?', we resisted.
Rating 5/10 (probably will not return)
—————————————-
Kingston: The European
Arrived about 12.00 Sunday. Breakfast till 2.30 (good)
We both breakfast being eggs, grilled asparagus and truffle oil (very good)
Coffee came fast (good) and was good coffee (very good) and the juice I ordered was also very good (very good)
The service was very efficient and very friendly. (very good)
Atmosphere, much better than it used to be. Try for a balcony on a nice day.
and I noted this information online – click here
Rating: 9/10 (definite to return)
This place has changed hands – so needs a new review.
—————————————-
Kingston (Green Square): Bitter Sweet
Arrived once on a Sunday about 12.00PM;  Made a second visit a fortnight later, but it was full outside so we moved on to the European (see above)
Breakfast all day (very good)
We both had the Colombian Omelet (very good) Recommended highly. Good bread. (good)
Coffee came fast (good) and the coffee was okay (OK); there are signs about coffee being special – not sure if you have to order the special coffee to find out.
The service is mixed and friendly. (good). The first time I got up and found the menus as we were not being noticed.  I think there are lots of regulars and they get far more attention. Tables are not cleared quickly. Mysteriously, twice were offered another table's food/coffee.
Outside atmosphere is very good (very good).
Rating: 8/10 (yes will be returning)
—————————————-
 Kingston (Green Square): Caffe Lella
Arrived about noon Saturday. Plenty of seats (Bitter Sweet next door was packed).
This is no longer the famous cafe that had its particular Italian style and sometimes gruff service – it was the main cafe once upon a time. We all loved their great coffee and focaccias.
The menu has changed. Not for the better. The service is ok. The coffee is ordinary. The food is just OK. I suspect different style of management. Potentially best seating in Green Square.
Rating 4/10 (will not return)
—————————————-