Music Review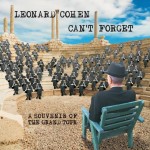 Leonard Cohen: Can't Forget: A Souvenir of the Grand Tour, 2015
Here's an album for the fans of Leonard Cohen. The album has a number of well known songs that had been revisited during a number of live performances. He has added a couple of new ones. This is great listening (provided you love Leonard Cohen and his music).
And for those of us who have thoughts about aging, the last track is a gem when he talks about the different stages of aging for men.
Here's a couple of audio tracks from the album:
I was not so taken by the song in French but he was playing to a Quebecean audience. Other than that the album is a total joy!
Recommended: rating 8/10
————————-
Paul Costigan