Review: Visual Arts
William Kentridge at the National Gallery of Australia, Oct-Nov 2013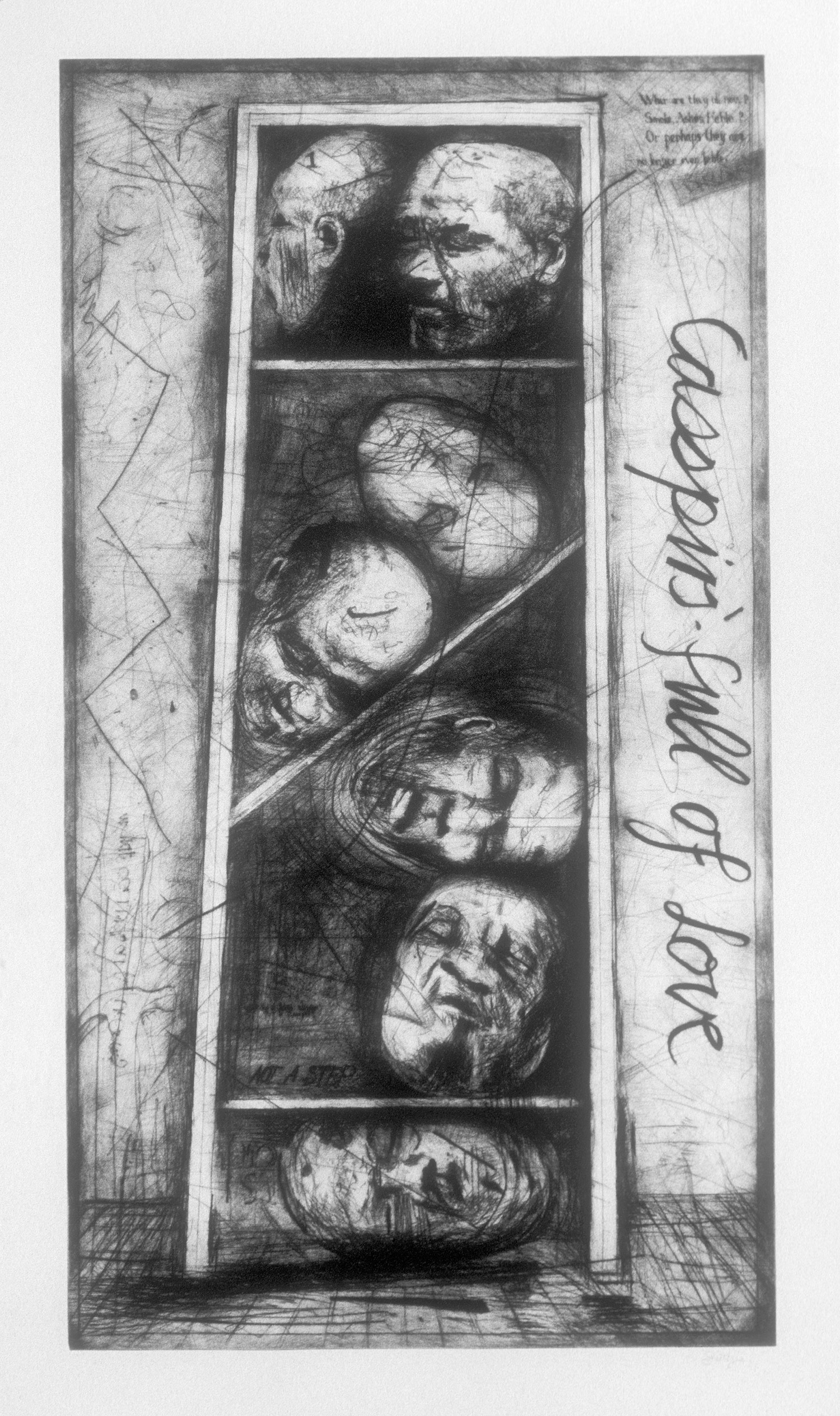 William Kentridge is an artist I know not well. I had encountered his various prints and videos at venues all over the world. Was always intrigued by many of his drawings and prints.
Interest was triggered when I saw there was an exhibition, Drawn From Africa,  at the National Gallery of Australia, Canberra. Along I went with no real preconceptions.
Glad I did. The exhibition occupied several rooms. It was not large. The gallery was quiet as it was between 'major exhibitions'. (more on that)
No entrance fee. I like that.
I will be returning to have another roam.
Spent quite a few minutes in front of several of the works and less with others.
The series Bird Catching set II 2006 is a series I would be happy to enjoy time and time again. Guess I will be back soon for that as the exhibition is not up for long.
Loved the drawing of the Rhino; full title Drawing for The magic Flute (Tamino's rhinoceros) 2004. Beautiful!
Another was the etching Reeds 2006. Just cannot help but admire both the distant view (great when the gallery is empty) as well as the close up detail. Magic!
Having spent part of my earlier years making posters, I was of course taken by the Poster, Resist The Hour 2011. And then there was even a chuckle or two with images such as Bakelite Radio 1994.
There was a room with a film showing, Other Faces. Trouble being that the sounds penetrated the whole exhibition. Such is life! At least it was the artist's own sounds and not that of another artists as is often the case with many exhibitions. there was another film on show in the foyer to the exhibition.
Shall I admit I have had limited interest in his film work. Will try again one day soon. But for now it is particular drawings and prints that I just love to stand in front of and engage and wander of into all sort of thoughts.
Recommended: Rating 7/10
PS: I am amused that places such the National Gallery go so quiet between major exhibitions. People have been well-trained to think of visiting these major public galleries only when they is a 'major exhibition'.  Allow me to say this as succinctly as possible: The National Gallery's two floors and many galleries of its own collection are on all the time and are often changing – they are fabulous major exhibitions waiting to be experienced!  I enjoy visiting the many galleries during these quiet times. Great fun. Recommended. Please do not tell too many as I would not want anyone else to discover the joy of roaming quietly and thoughtfully through all these exhibitions at times between 'major exhibitions'.