Review: Book
Home: A short history of an idea
by Witold Rybczynski 1986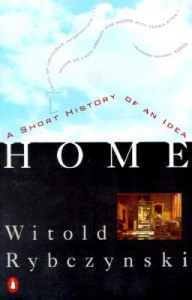 I bought this book about tens years ago – maybe even more. I can remember starting to read it and thinking what a great little book. Then the business of work interfered with normality and sadly enough time did not materialise again to sit down peacefully and get into this little gem; until now.
I found the book amongst so many other unloved publication the other week and immediately set out to enjoy it fully. I did. I now recommend it highly. What an intelligent and entertaining writer.
There was a related comment in another book I had just finished. Russell Shorto in his 2013 book, Amsterdam: A History of the World's Most Liberal City, had mentioned in passing that the concept of home was a fairly recent concept that had its roots in Amsterdam. This intrigued me to search out the history of the concept of home and to my surprise the research reminded me of Witold Rybczynski's book. Hence the reason I went looking for it. And may I say that reading Amsterdam first was in fact a good way to go. 
Witold Rybczynski beautifully sets out the history of dwellings that led to the concept of the home as we know it today. It was all to do with comfort and the manner in which the people of Amsterdam evolved their way of life to the point that a home life developed and how this went on to influence so many other societies.
From a review online: Walk through five centuries of homes both great and small—from the smoke-filled manor halls of the Middle Ages to today's Ralph Lauren-designed environments—on a house tour like no other, one that delightfully explicates the very idea of "home." You'll see how social and cultural changes influenced styles of decoration and furnishing, learn the connection between wall-hung religious tapestries and wall-to-wall carpeting, discover how some of our most welcome luxuries were born of architectural necessity, and much more. Most of all, Home opens a rare window into our private lives—and how we really want to live.
Although the book is now almost three decades old, it still reads beautifully and remains engaging. There are just so many people and professions that would benefit from spending time within these pages. It is a fun and intelligent read.
Recommended: Rating 9/10
——————————————
Paul Costigan, 24 May 2014