Commentary: Dispute with Amazon gets dirty

Things are getting dirty in the fight between Amazon, publishers and authors.
An advertisement has been published in the New York Times by a group of authors trying to get Amazon to rethink the way it goes about reducing prices at the detriment of publishers and authors. Meanwhile Amazon has hit back but has stuffed up their response by misquoting George Orwell.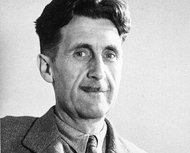 Seems someone in Amazon marketing does not use google to check quotes. Meanwhile I do urge people to go to real music and bookstores, or buy from alternate online site, for instance, in Australia, there are very good music shops and bookstores online.
Here's the story from the Guardian about the authors placing the advertisement. click here
Here's the story about how Amazon stuffed up – click here.
and for my previous post on the Amazon saga – click here.
——————————————–
Paul Costigan, 10 August 2014