Visual Arts Review
Alex Sexton, As of Today…
Australian War Memorial Canberra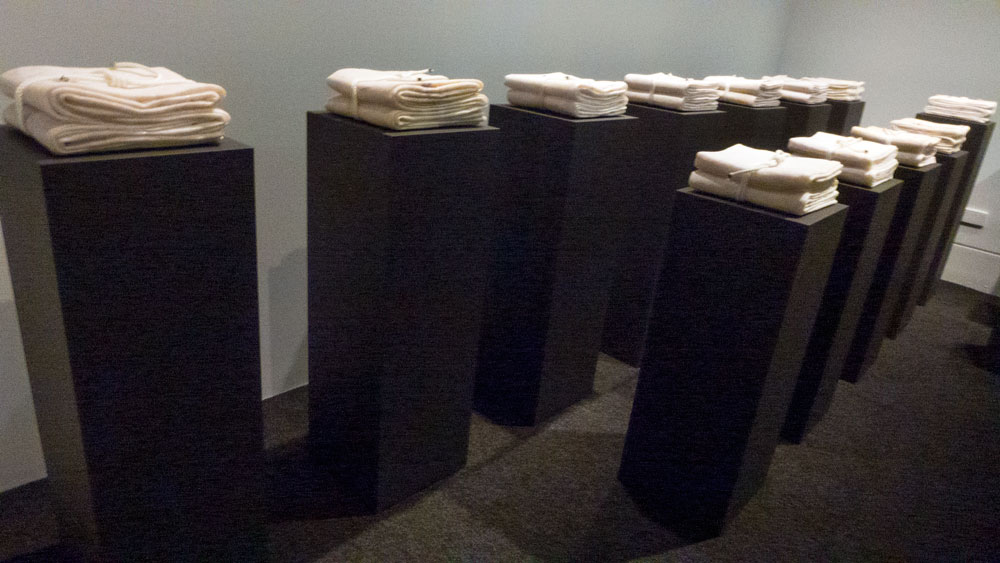 This is moving stuff. It is totally recommended that you visit the War Memorial to spend time with these precious artifacts.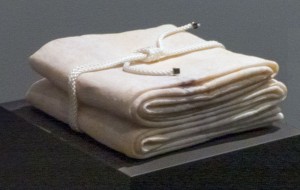 This is an exhibition of beautifully sculptured artifacts, made of marble, in the shape of folded flags. The 41 artifacts represent the flags that were folded following the funeral of the soldiers killed in war. In this case the number refers to the those Australian soldiers killed so far in Afghanistan during this most recent Afghan war.
Before seeing the exhibition, I had read the online information and was taken aback by the honest and insightful statement by Alex Seton. I have provided a link to his statement that maps out the journey he travelled to bring this work together – click here.
His final words from the statement are: Initially I thought this work was about us – how easily we forget – but it is not about us at all. It is about those who gave their lives and whose memory we now preserve. That just about says it all. This is moving stuff.

The artist has totally succeeded in making a very forceful and touching artworks about the loss of these Australians in Afghanistan. His use of material has been perfectly chosen.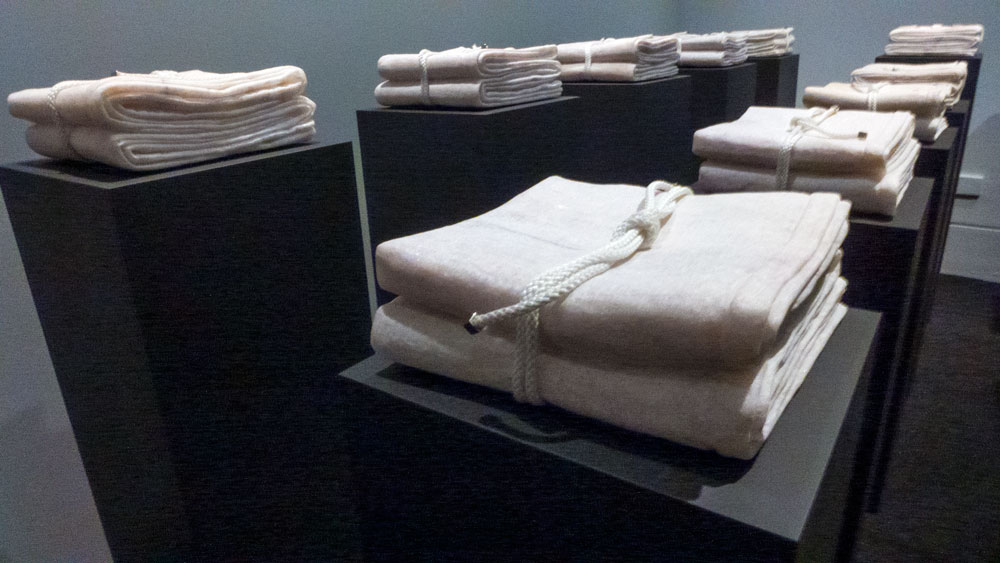 When I visited, I was at first alone in the room and the impact of these objects and what they represented was very strong. Unfortunately other noisy people then joined me.
As part of my retreat, I stood outside the room and read the attached room card with the names on it. I was completely hit by an emotional impact about the loss of these individuals.
As the noisy invaders departed, I returned to the room and observed that at each end of the line of flags that there remained spaces as if there was room left for further flags.
The war goes on…. and As of Today..   there are 41 of these marble flags in recognition of the loss so far. Will there be more?
While standing inside the room I was again interrupted by people talking loudly, not just about the exhibition, but about other things. I retreated a second time.
On my third attempt, I was joined by others who were also silent and took in the exhibition. Unfortunately, after a couple of minutes, we were all joined by several children on the loose who wanted to touch the cords and who then had an argument with their mum about why not!  I resisted.
While waiting outside again, I had to listen in on a telephone conversation about where someone was staying. I wandered off to the adjacent exhibition by Ben Quilty, to return after about ten minutes.
These are beautiful artifacts. You must see them for yourself as no amount of photos or information can replace the experience of being in a room with the works – preferably in silence.
There is more than adequate information online about Alex Seton and this must-see set of works, so I leave it to you to have a read  – click here.
Here's a link to Alex Seton's webpage – click here
I say again – This is moving stuff.
Recommendation: Artwork rating 10/10
—————————————-
More comments:
The War Memorial in Canberra is not a place I have visited often. The building has an important function as a memorial to those Australians who died in the many wars involving Australia. However given many changes and events of recent years, I am no longer convinced of how it honours its role into the 21st Century.
Alex Seton's work is fantastic as I have said above. However I felt that when viewed from a larger curatorial view, this exhibition was less than satisfactory.
The exhibition was tucked into a side room and therefore visitors were tending to take a step or two into the room, look about and then move on. As a memorial exhibition, the strength of the message was all in the objects, with very little enhancement from the side-room allocated. There was little space for people and there was nowhere to sit and contemplate.
These works require to be seen as a memorial and for people to know what they stand for.  On the day I visited, being several days before Christmas, the whole memorial was not extra busy (loads of parking). However the levels of noise was huge as children were running about and groups of people were talking loudly and making telephone calls. All this in a memorial to people who had been killed in wars!
The main parts of the memorial have become more of a museum to military hardware and to the adventure of war. Given the noise and the lack of respect by many of the visitors, the message of this place as a memorial is well and truly lost. The lights, the digital layouts and screens do little for the place as a memorial.
I acknowledge that a small number of individuals do actually take their time over particular exhibits and seem to be taking on the messages of the memorial. However for most, it is a holiday entertainment and distraction. People pass from one place to another as they do in any modern museum.
Maybe this just the behaviour of our society whereby more serious and subtle messages are being overwhelmed by noise, by gadgets and by museum entertainments. People love this as it entertains and provides distraction, and so they keep coming and stream through in great numbers. The Australian War Memorial's main exhibition areas have largely become an info-entertainment complex.
I hope that after this exhibition, that the management will set up Alex Seton's works in a more relevant part of the memorial. Such a place needs to make clear that the works are 'about those who gave their lives and whose memory we now preserve'. It should be a place of reflection – with some seats, and people should be encouraged to be quiet and to think.
The list the names of the 41 people should be on a larger plaque somewhere to one side away from the works. I am not suggesting that there should be anything such as name tags or anything near to or next to each of the artworks. If these works were on show in an art gallery, the information brochure (with the 41 names) would be enough for gallery visitors, being people who have chosen to visit the gallery to see the works.
However by having the works in a place such as the War Memorial (Museum) where people come in great numbers and have loads to look out throughout this large building. Therefore how the information is made available has a different context. The works are being shown not just as works of art but collectively have the function of a memorial. The names are presently on a room card attached to the doorway, but very few people were looking at these. Again I must emphasize that nothing should be attached to the work or too close to them. That would be interfering with the artifacts as created by the artist. But there's a different curatorial solution that could be found once the works were exhibited more appropriately and were no longer in that poky little room.
I cannot put my finger on it, but also I think that there was a better way of displaying these works rather than on the plinths used in the War Memorial. A more relevant room or space would be part of this answer.
I suggest that any parent or relative would be honoured by the powerful message embedded in Alex Seton's work. He is to be congratulated for taking on this complex subject. But I am not convinced that the same visitors would be pleased by the room and by the way it, and the surrounding noise, hinders an appropriate level of honour, contemplation and engagement.
I aim to return to see this exhibition again, so let's hope that on that day there are visitors who know about how to respect such artifacts and know that the memorial is in fact a memorial. As Alex Seton said: 'about those who gave their lives and whose memory we now preserve'.
Despite the negative comments about the curating of the exhibition – This is moving stuff. Please visit and allow time to contemplate.
Curatorial rating for how the management have handled this exhibition: 5/10
———————————————
Paul Costigan