Review:
Visual Arts
A review of textiles as seen at CRAFT ACT November 2013
It has been a while since I wandered into the exhibition venues of Craft ACT , the local craft council. On the main walls was an exhibition "Art Quilt Australia: people, place and nation".
I stopped at the head of the exhibition and took it all in.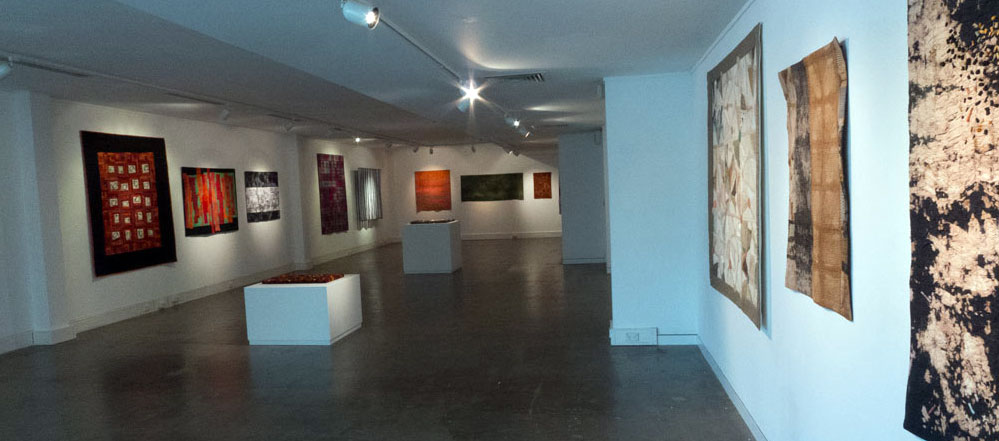 It looked to be a variety of styles and quite a spread of takes on the theme.
For some reason down the other end to the left, with quite a strong light on it, one particular work took my attention. So looking quickly at the others, I made my way down to the far corner.
Sometimes chance can be amazing. I took one look and quickly made my way back to the beginning of the exhibition where some A4 brochures were available. I was right. I know this artist.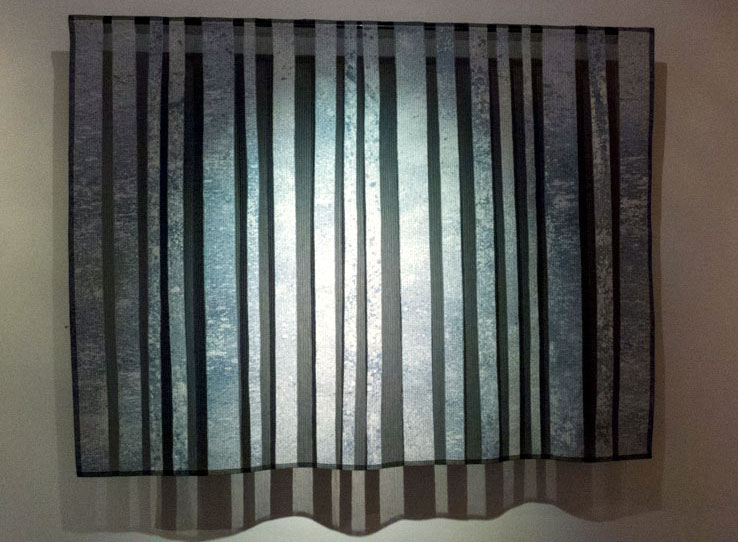 The bright light as shown in my photograph is misleading. This is quite a subtle work and has much detail on closer examination. The theme of landscape has been formally embraced through her textile art.
I first saw the work of Dianne Firth many years ago and at that time I hesitated in buying one. Mistake.
Dianne Firth has been a practicing landscape architect and a landscape architect academic for far more years than I have known her. In that time I was always full of admiration of someone who could fulfill her complex academic roles as well as step out to practice professionally as well as contribute locally via a host of heritage commitments .
And, on top of all that she also managed to progress, very successfully, a career as a textile artist.
Here's a link to more of her works.
To quote the artist:
Environmental conditions such as drought, fire, floods and the urban/rural divide strongly influence my work. My training as a landscape architect and involvement in teaching design students at university provides me with a language to interrogate such phenomenon and respond to them through my work. Topography, geology, hydrology, vegetation, settlement patterns and constructed environments are my dominant themes.
Rather than using representational techniques I prefer to use processes of abstraction and minimisation. I try to have a strong graphic component in the work as well as interesting detail. Line, form, colour and texture are dominant elements while dyeing, tearing, cutting, layering, glueing and stitching are the main techniques. Each piece, or set of pieces, is designed within a frame – a device to focus the eye into the work. The tactile quality of the work is always considered.
The whole exhibition as organised by Valerie Kirk as an initiative of the OzQuilt Network is worth a visit.
For me the stand out work is the piece by Dianne. Shame it is sort of stuck in the corner.
But then again the NGA has stuck one of my favourite works in a corner – see the Rothko below. The Rothko is another work for quiet contemplation as often as I can get there – but still no seat for me and so many others who stand there as these people did for several minutes.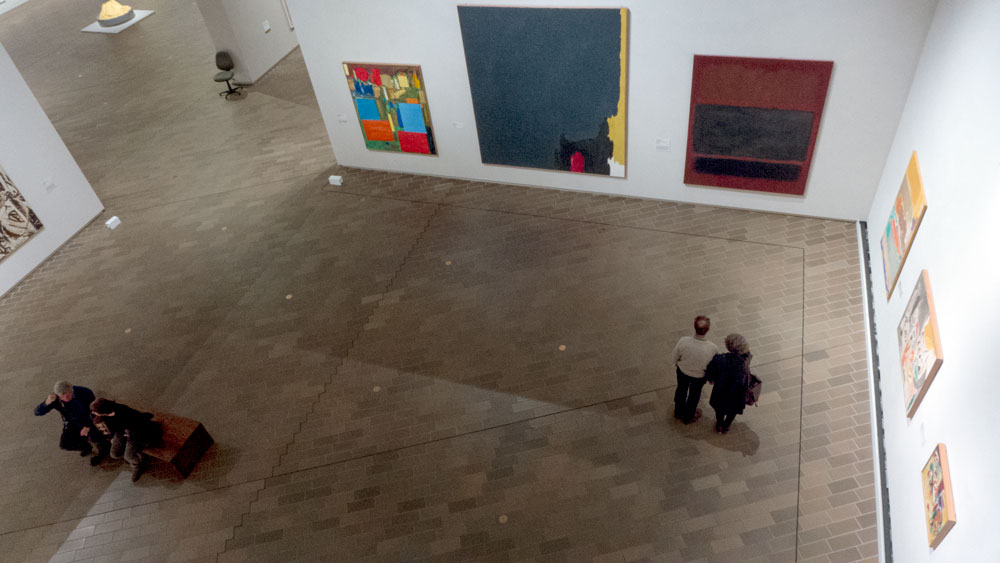 but I digress, as I do.
Dianne's work was indeed very tactile in appearance and I was tempted, but in the end I behaved (this time) and did not touch it.
The way Dianne has represented the landscape through such near-ephemeral means is just beautiful.  It floats. (and deserves better lighting and a more prominent position)
Dianne's lightness of touch and her formal approach in re-interpreting our landscapes is wonderful. This piece would sit very nicely alongside some works I saw recently in the Lawrence Wilson Gallery in the University of Western Australia.
Dianne is a person who knows about our landscape and is providing an intelligent and creative interpretation of our national sense of place. She has informed this work through her research and commitment to landscape architecture and environmental concerns.
Landscape architects and architects often talk about their creativity and links to the arts. Unfortunately for society, few actually translate this into actions outside their commercial design briefs. Dianne is one of these few. The textiles of Dianne Firth are definitely to be followed (and collected).
—————————————————-
Here's an online essay on the exhibition: "Art Quilt Australia: people, place and nation".