Review: Visual Arts
 White Rabbit Gallery exhibition, Serve The People,
curated by Edmund Capon, until 2 February 2014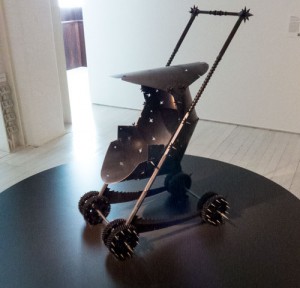 The White Rabbit Gallery is a real gem. It is always worth a visit. It's free. You are allowed to take photographs. The security is attentive and reasonably friendly. The curious thing during my recent visit was that all the security people on the various floors were concentrated on doing some form of intensive scribbling or game. Not sure what it was. But I am sure no animals or children were being harmed.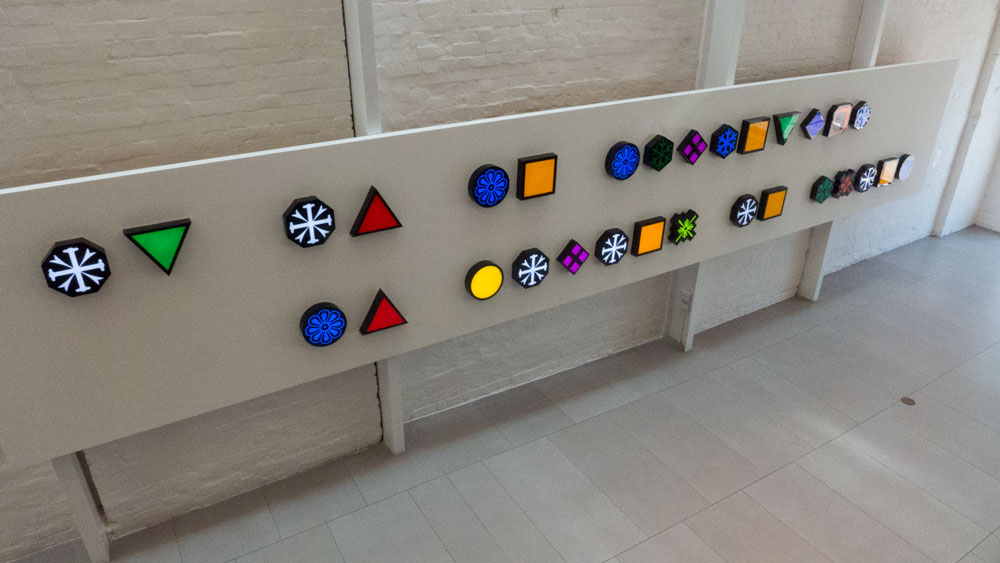 This exhibition, Serve The People, was selected by Edmund Capon from the White Rabbit collection. Hence some of the works I had seen before.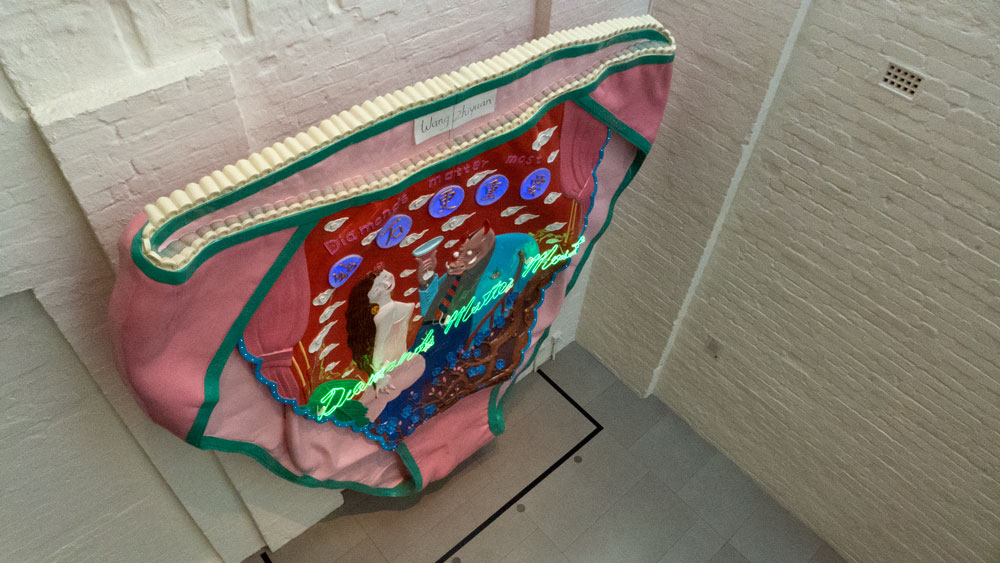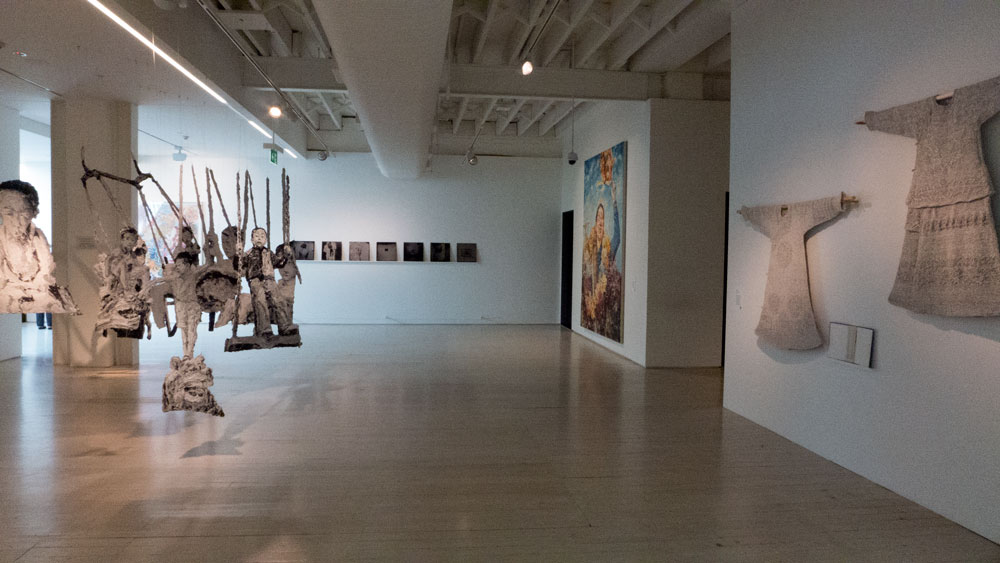 When you visit, please note that the first two floors are accessible via the stairs. But there is a third floor. To get there you have to use the lift.
On the top floor was one of my favourites for this exhibition. The work by Sun Furong (below) is an expression of frustrations. Although as I approached it I had a more terrifying interpretation, being of people being obliterated. The figures,being shattered clothing on stands,  stand and a posed as if to gaze back at the visitor.
The works are in all sorts of media. Here a series of colour photographs, Metamorphosis.

A series of modern ambrotypes by Yan Siwen.

and there's always a pile of dirt in a contemporary art exhibition. This one moves. Slowly.
It is titled: Calm by Madein Company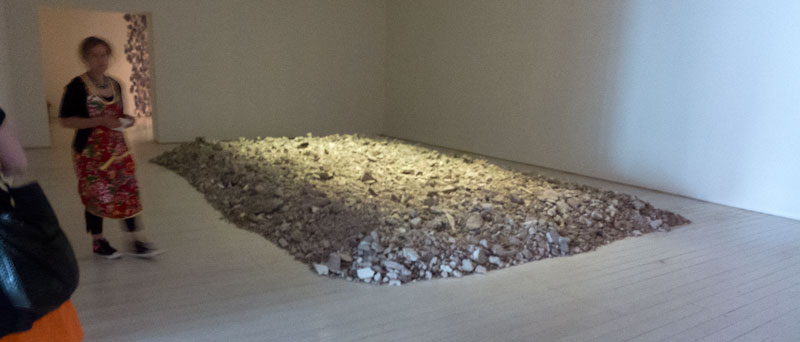 and below an installation, A History of Chinese Modernisation, by Jin Feng.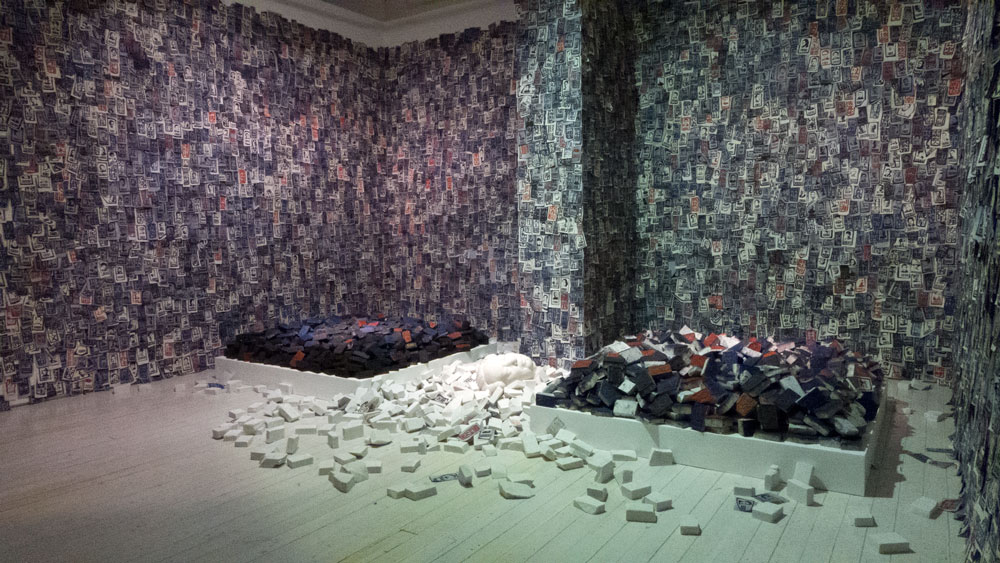 one of the video works was a series of paintings on the recent history of china.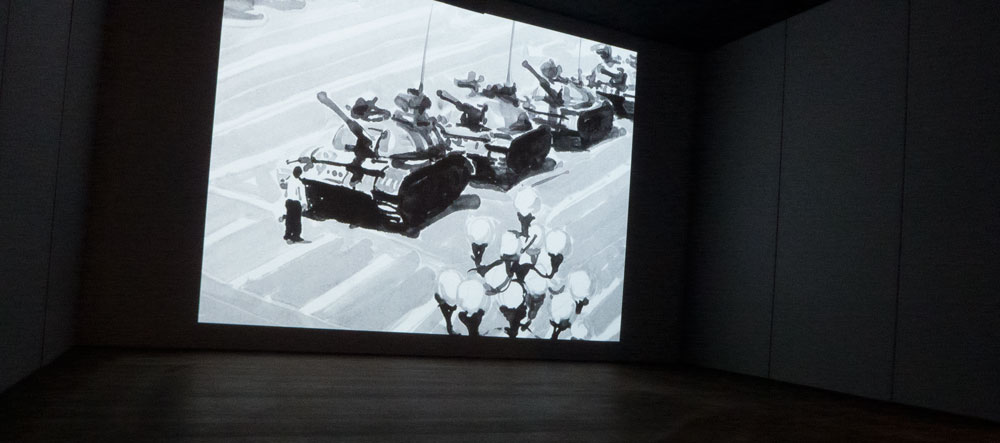 I do recommend that when you visit this exhibition do not read too much about it before the first walk through. There's a $10 booklet on sale with some details and a check list.
As with other exhibition, I took my time to stroll through once and then walk back to see pieces a second time. Then I read more about them.  With these works it is an interesting exercise to see how reactions change once you take on board the background information. As with any contemporary visual arts, there were some I did not take to.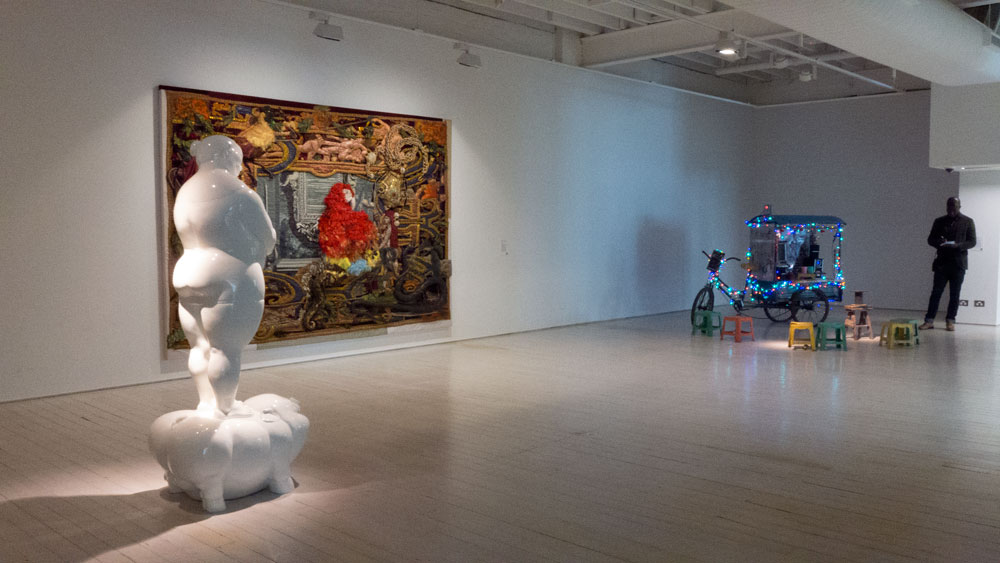 Will there be an exhibition some time in the near future of all these plastic figurines? In the last decade it seems that there have been an ever-increasing presence of life-size, sometimes caricature, figurines.
After visiting this exhibition, which is very worth a visit, I was thinking about the future of this form of contemporary Chinese art. The Chinese artists are still working through intensive cultural and political and personal issues using many of the tools adapted from the west. Along the way they are producing art pieces in a style which is not too different from many contemporary artworks from the west. It is just that theirs are imbued with their own cultural issues, tensions and viewpoints. In the end there will be a lot of competition for a space in the history of the art from this part of the 21st Century.
The Chinese art is maturing, slowly. I am not sure whether we have seen a lot of artwork that could be classed as some form of contemporary chinoiserie. Have some of the artists produced works that they know this is what the buyers and the audiences in the west want to see?
There's no doubt that artists are now engaged in a new revolution from a Chinese perspective. Their new freedoms are being tested.
For a full overview of the exhibition with some better images than mine – see this review
and another review in the Sydney Morning Herald- here.
………………………………………………..
about the exhibition in their own words:
A slogan of the 1966–76 Cultural Revolution, "Serve the People" meant serving the great cause of socialism. 
Artists were crucial to that effort, but they had to make the right kinds of art: Soviet-style socialist realism or ink painting on revolutionary themes. All other art forms, Western or Chinese, were banned, and those who dared to practise them were vilified as capitalist-roaders and traitors.
The "opening up" that began in the 1980s led to a more expansive view of artists' role: now they would serve the people by boosting China's national image and income. "Today," says the artist Liu Dahong, "we have a new cultural revolution." The art market is booming and artists have unprecedented freedom to experiment and travel. And they serve people—and not only China's people—in wildly different and distinctly individual ways. Many are rediscovering and revitalising the same traditions the Cultural Revolutionaries vowed to destroy. Some struggle to separate history from ideology, while others question the overlap—greater than ever in the digital age—between fact and fakery. Critiques of consumerism are common; a few artists express cautious criticism of corruption and censorship as well. But even those who stick to personal themes serve others by showing them new ways to see.
 ………………………………………………..
recommendation: go and have a long look. Rating 8/10
Hungry? when you have been through The White Rabbit Gallery, they do serve a special sort of snack and teas in the cafe. However if you want a good coffee and maybe a nice role or similar, head up Balfour Street two intersections to the corner with Meagher Street.
There you should find a cafe, Silver Spoon, which has some very nice food. They are caterers who make other jars of food that you can buy.  You can sit outside and read your materials or just watch the neighbourhood pass by or just sit and enjoy.
Do not head in the other direction towards the new Central Park looking for food. Boring!