Review: Book
Where Song Began: Australia's Birds and How They Changed the World, Tim Low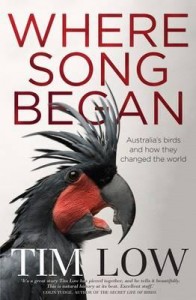 Ever now and then along comes a great book. This is one of those. If you already admire Australian birds, this book will still change the way you think about them.
I will never be able to walk past a group of Choughs and not wonder about if one of them has been kidnapped from another group and is now being used as a slave. There are many such fascinating things about birds in this book.
Rather than providing another full review – I recommend this link to Readings Books – it says it all. Click here.
Here's another from the Fairfax Press: click here
Tim Low has his own website – click here
But, please do not buy this from Amazon (see articles about them – click here).
I recommend that you go to your local book store or if you have to buy online, buy it online through Readings (free postage within Australia)
—————————————
Recommended: rating 10/10
————————————–
Paul Costigan, 26 July 2014