Review:
TV on DVD
Inspector Montalbano on DVD – originally aired in 1999 and still being made.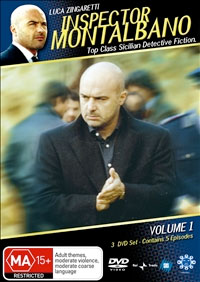 My viewing of the Inspector Montalbano first five programs follows having first enjoyed the wonderful series, The Young Montalbano. The 'Young' series, released last year, was meant to be a prequel to give viewers are look into how their hero ends up on the Sicily coast  as the local chief detective. For me, I saw the prequel before I saw the first of the original programs, which I am doing right now.
I came to the original series with an understanding of all the characters . All the characters continue, although the roles are played by different actors. It works for me. So let me be clear, I am really enjoying sitting back for the hour and 45 minutes for each. Once I have seen them all, I may come back to do a final review.