A Gallery Story
The security at the Museum of Contemporary of Art (MCA) in Sydney is usually very attentive and they are very helpful if you ask them anything. Today while visiting we noticed a fault.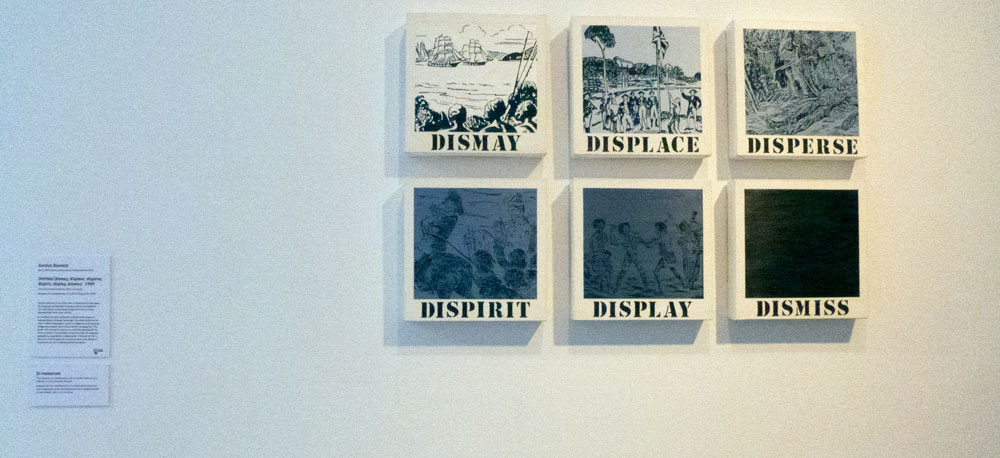 We noticed that two of the security staff were totally distracted as they had answered their twitter accounts. One in particular missed an incident completely because of the distraction.
The story – A person was lining up to take a photograph of a work, but moved backwards as the artwork is quite large. In doing so she jammed her backpack into the artworks on the wall behind her. The artworks are by Gordon Bennett – see above.
She stayed there with her pack against the artwork while she lined up and finished the photo.  As I have often observed, usually in all such incidents, the security have been very quick to see trouble before it happens and very effectively and very politely dealt with such events.
In this case I turned to see if the guard, who was in direct eyesight of the incident, was about to leap forward. But no, she was off with the fairies being far too occupied with her clipboard.
Hmm I thought. Very busy clipboard! I thought to myself that I recognise that downward stare, occasional furtive glance up (but not actually registering anything),  and those rapid finger and thumb movements.
So I circled her and noticed that behind the official clipboard was a iPhone. Alas I as closed in I could see that she was totally engaged with her twitter account. I got so close, right alongside her, that at one point that I could have almost read it.
So around I went again. She did not notice my behaviour and did not notice that I was in fact watching her and not looking at the artwork. I stopped and snapped a few photographs. Here's just one which does not identify her. The artwork in question is right in front of her, being in the blue light to the left of centre.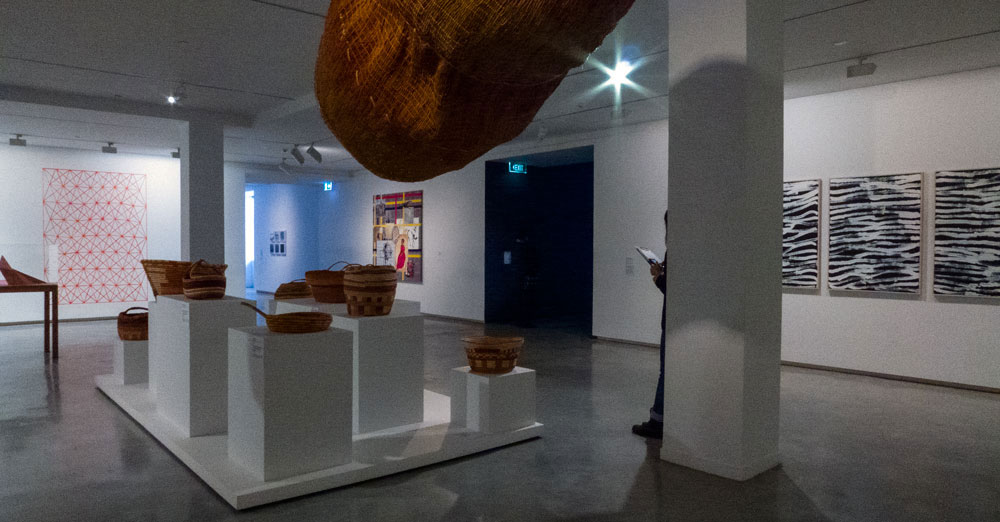 You can guess that I am not a fan of Twitter and all the distractions it has launched onto so many people. As my partner said, we should have tested her out by moving one of the baskets nearby. I think we could have easily done so and she would failed to have noticed
I checked out the Gordon Bennett works, they seemed to have survived the pounding by the backpack.
The MCA is always worth a visit. See my comments on Annette Messager exhibition. The image above was taken in the gallery with the MCA's own collections on exhibition.
————————————-
Paul Costigan, 3 August 2014