Coming Forth By Day , Cassandra Wilson, 2015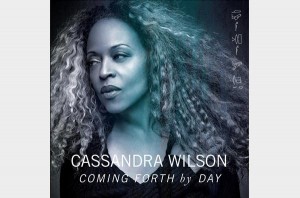 Here's an album by a great jazz blues singer who continually crosses over genres in her many albums. This being a year of celebration of Billie Haliday (her 100th Birthday), Cassandra Wilson has taken a selection of Billie's songs and covered her music not by doing an imitation, but by making the songs her own.
The band is an interesting mix with the producer and a couple of the musicians being from Nick Caves own band. It is a great music. If you like Billie Haliday music and/or any of Cassandra's former albums – then this is to be enjoyed.
I am not being too enthusiastic here, as while I enjoy most of this album, at times it is a bit too soporific for me. But despite that it is worth a listen or two.
Here's a taste – via You tube:
Recommended: Rating 7/10
—————————————
Paul Costigan