Announcement: Visual Arts Exhibition
Alex Seton, Refoulement at Sullivan + Strumpf, Sydney till 11 October 2014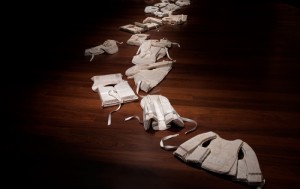 This Sullivan+ Strumpf exhibition of sculptures by Alex Seton is very worth your while to make the time and visit the gallery in Sydney.
He was recently a major artist at the Adelaide Biennale and his earlier photographs are presently in an exhibition at the National Gallery in Canberra.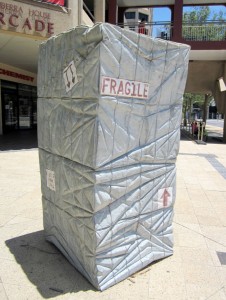 There's a wonderful piece of public art here in Canberra that happens to be one of my favourites. The building behind this work is about to be demolished, so I hope there are plans for the work to be returned to this spot as it is fits in beautifully. Many works of public art look as though they have simply be plonked there and have no relevance to the site. With this one, I suspect that Alex Seton is having a laugh as the piece looks as though it was left behind accidentally and we are now expecting someone to come back to fetch it.
Alex's latest works contain those not so subtle and political messages that have imbued much of his sculptural practice. Doing political art work can be a challenge. But it works for him. Wonderfully!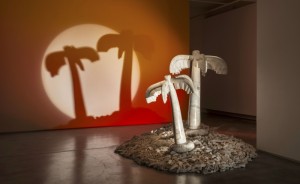 I always find with Alex's work that they are very much a thing of beauty. By being attractive and at times mysterious, I find I am first drawn by their aesthetic nature and the  before I know it, I am hit in the face with the political messages. Always a joy to behold even if you are then wacked with the message.
There is very good review in The Guardian that is worth reading – click here.
and for details about the exhibition – click here.
—————————————-
Paul Costigan, 23 September 2014.