Review: Shadows in The Dark
Bob Dylan, 2015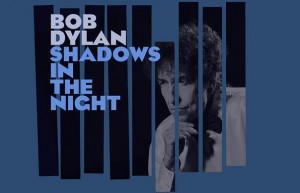 I am sure there are plenty of people who are not taken with much of Dylan's later music. It has been very much a mixed affair. I am sure that there will be plenty of people who will not get this new album by Dylan. The songs and Dylan's treatment of them do not fit easily with any category.
And that last statement has summed up the approach Dylan has had to making music.
I suggest the best way to approach this album is to consider being in a venue somewhere listening to an older performer revisiting some thoughts on his life and relationships. He does this by taking songs that had been sung by Frank Sinatra, many written in the early part of the 20th Century. He does not just reinterpret the songs. Instead Dylan gets inside them to tell his own stories.
Dylan did not bring the big band production to these songs. He is in the studio with a handful of musicians who he has worked with previously. The songs are recorded straight without any dubbing. With earphones on you can at times hear him taking a breath.
Oh yes, sometimes his aging voice does strain a little. But Dylan's style of singing has always been his own.
This whole album is in slow blues style. It has definitely grown on me.
Recommended: rating 8/10
————————————
Paul Costigan