City Renewal Authority waste money – again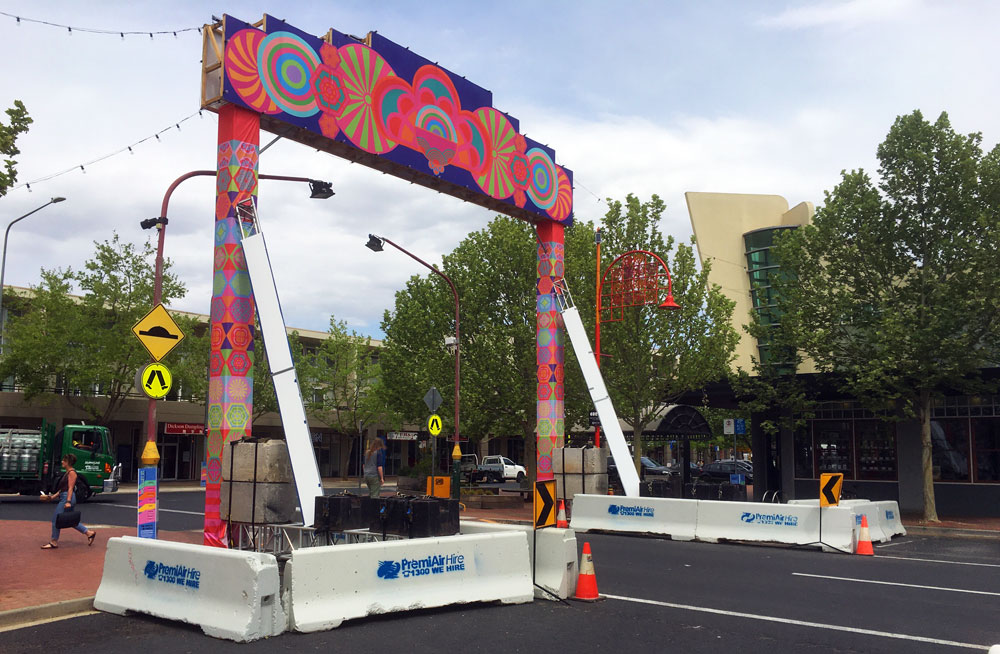 In centuries past when a colonial power arrived somewhere foreign (to them), they presumed that they knew how to improve the local culture and commenced with handing around beads and trinkets.
In Canberra's inner north, the City Renewal Authority decided that areas across the Dickson shops were run down (because of government neglect) and that they knew how to "Make Dickson Great Again".
Instead of trinkets, we were delivered temporary pop-ups and all manner of colourful stuff, most of which was quietly ignored by locals.
Expensive seating was installed along Woolley Street (rarely used), some play things popped up complete with colourful pool noodles (being regularly stolen) and wooden benches with umbrellas beside them lined the western side of the street (now removed).
Then there was that arch (pictured). Not exactly reflective of the heritage of the area but someone knew better. It will not win any engineering or road safety awards. It has now disappeared so you have lost any opportunity for a selfie.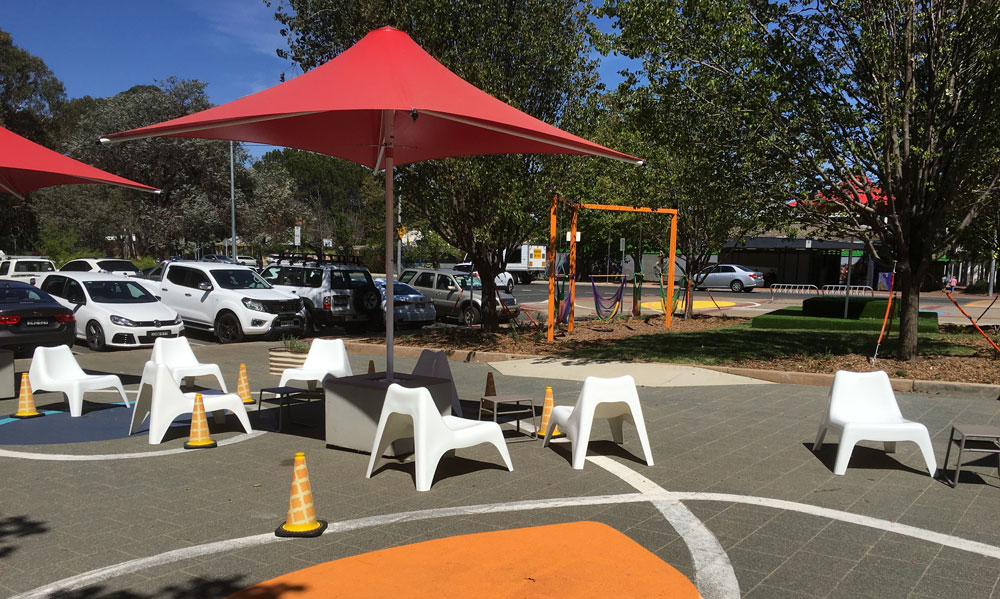 In front of the Dickson Pool, another ship of officials arrived unannounced to rejuvenate the pool's forecourt. To the surprise of those that live here, this was the top priority.
Most would agree it needed a make-over (more government neglect), but what we ended up with is questionable. It was definitely not the priority development that people have been looking for.
With all of the above, community involvement has been exaggerated in the subsequent promotions. That's the way of colonial authorities. But wait, there's more.
A remarkable set of numbers surfaced at the end of 2019 thanks to the sleuthing of the leader of the Dickson Residents Group, Jane Goffman. The figures published on her website, Dicksonia Magnificia, set out in detail the extraordinary amount the City Renewal Authority spent on their urban experiments, pop-up thingys and a few events for their Woolley Street project (China Town).
She also published the expenditure for the temporary changes and the moving of established trees to the area in front of the Dickson pool.
So much money has been spent on something that will largely not last and has had questionable community engagement. The total for the Woolley Street temporary stuff was $1.18 million and for the pool forecourt about $270,000. These are very expensive trinkets.
Now, if you are a resident of Woden or Molonglo, you will know that the provision of community cultural facilities has not exactly matched community expectations.
In the case of the Woden Valley Community Council, they presented a well-argued and researched case for the provision of a multi-sports facility and for community and arts facilities – and for some green spaces.
Mid-last year there was a slap in the face by Minister Yvette Berry at a meeting when challenged over the urgent need for multi-sports facilities. She bluntly said a big fat "NO" – not government policy – nothing to offer.
The City Renewal Authority continues as the authority we did not really want. Nobody knows just what it achieves (besides trying to distract residents from all the horrible developments being approved).
Much to the growing dismay of ratepayers, this expensive agency continues to burn millions on pop-ups and other distractions in Civic, Braddon and more recently Dickson. Meanwhile, across Canberra the community, cultural and arts needs identified by community groups are largely sidelined. This government knows better.
At this point I need to repeat what I will be saying till evidence points to a change. While all this misalignment of priorities and this dubious expenditure on things that do not matter is the result of an out-of-touch ACT Labor/Greens government, there's little information in circulation that a government led by the ACT Liberals would be much different.
As we head to the 2020 ACT elections, we need to call out that the established political parties and too many of their bureaucratic hierarchies have lost the will and means to be relevant to the things that matter to Canberra's residents. It's definitely time for change.
——————————
This article was originally published online with City News
Paul Costigan is an independent commentator and consultant on the visual arts, photography, urban design, environmental issues and everyday matters.