Where does the money go?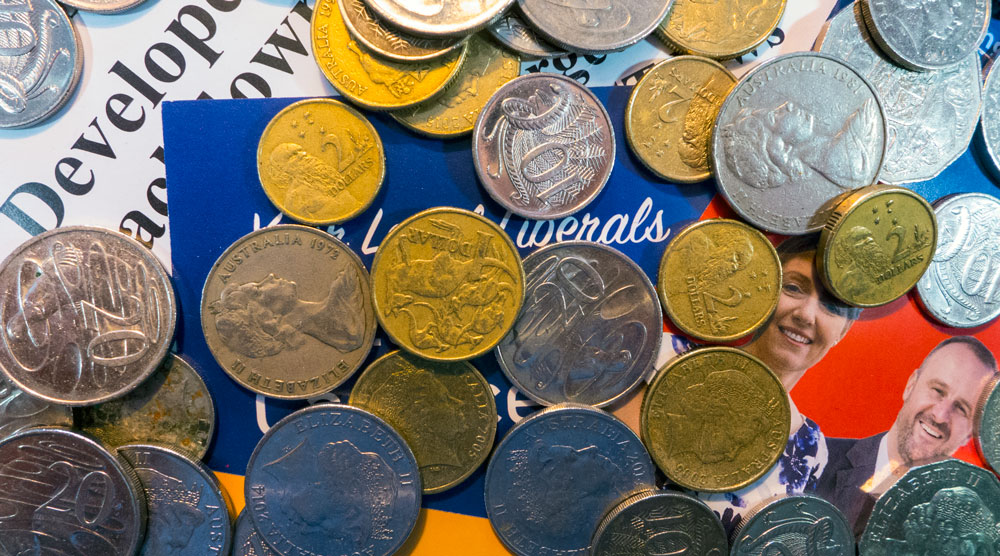 A topic that dominates "CityNews" columns and other media, is how the ACT's Labor-Greens coalition government collects and spends your money.
Attend any community meeting and there is a good chance that residents or local businesses will mention, with great passion, how their rates have gone through the roof.
People have heard the Chief Minister spin reasons why this is so, but few are convinced that how money is collected and spent is done transparently and with motivations that align with community aspirations.
The government's spin on finance questions and so much more, is taken as being more ingenious trickery with words that are meaningless and patronising.
The question that lingers is that with the government's control of land sales and the subsequent property developments and the cash that  circulates as a result of all this, then why does this government spend so reluctantly on community and cultural facilities, green infrastructure, heritage management, park and open-space management and a host of basics.
Is it a matter of priorities? While people think that certain basic amenities and social programs should be high priorities, the ACT coalition government seems convinced of its own priorities.
The experience is that these do not align with community aspirations. As with so many decisions by this government, the levels of mistrust and cynicism are high.
The consistent call by local businesses is that the ongoing level of rate rises is harming their business and therefore the economy, wages and ultimately employment.
Several businesses in Woden have clearly outlined how huge rate increases have hit their operations and how this seems to be an incentive for people to move their business over the border.
When looked at in the context of what the Woden Community Council is saying about the shocking lack of community, cultural and sports facilities, is this hit to Woden businesses more of the government's special neglect of this major town centre?
Are the concerns of business and ratepayers across Canberra simply taken as collateral damage that needs to be suffered to allow this coalition government to do what it wants to do – whatever that is?
Fellow columnists Jon Stanhope and Khalid Ahmed continue to highlight the inexplicable anomalies with the government's rhetoric on how it justified that the shift in revenue collecting would be revenue neutral.
Yet there has been a massive increase in the revenues raised through rates and land sales. The Barr rhetoric is not matching the reality of the situation and does not acknowledge or address the problems being caused.
Does anyone outside the few within the government's inner circles know what happens with money that is sloshing around this city?
In general, residents do not have the time and expertise to completely understand what this government does with our money. But given the ever-increasing instances of who misses out and who is benefitting, it does not take a PhD in government budgeting to realise that something is wrong.
This is reinforced when particular high-status developers are seen to set planning agendas and in notable instances confidently explain to residents that developers now do the master planning for key development areas, such as the Kingston Arts Precinct (we do still pay for government planners, don't we?).
The Canberra Liberals have seen part of the problem and announced a rates freeze if they win the ACT election in October this year.
Is that the solution? It seems far too simplistic. People will always rejoice at fewer taxes. But in a progressive city such as Canberra while the issue is partially how government income is gathered, more importantly it is how little gets spent on the things that matter.
Loads of residents have been frustrated in their efforts to follow this ACT coalition government's money issues.
The high suspicion is that someone else benefits. And when the government's responses are more spin and obfuscation, trust in this government just keeps going lower.
——————————
This article was originally published online with City News
Paul Costigan is an independent commentator and consultant on the visual arts, photography, urban design, environmental issues and everyday matters.