Review:

Visual Arts
Saturday 19 October 2013
The National Gallery of Australia (NGA) has a wonderful sculpture garden that very few people wander about in. Because of the architect's design, in that the garden is not naturally connected to the spaces inside, it means that unless they know about the sculpture garden, most visitors to exhibitions do not even see the gardens, let alone the sculptures. A very similarly designed sculpture garden, with many of the same features, including gum trees, in Pasadena is very much part of the museum visit as it allows people to wander in and out of the garden from various galleries.
The ANU has a campus that has a fantastic collection of sculpture throughout the whole campus. Very few people take the time to enjoy the huge range of artworks. The campus is a great place to take long walks, to take in the artworks as well as to enjoy the very pleasant ambience of the well looked after campus gardens and landscaped works.
Today hundreds of people drove out of Canberra to a property near Tharwa to take in a temporary exhibition of Sculpture in the Park. So yes, people are interested in wandering amongst sculpture in a park. And these were local artists/sculptors, so there was that very added attraction. It was a beautiful spring day – being about 25C.
On show today was the work of twenty-eight  artists/sculptors. This outdoor exhibition was curated by Canberra landscape architect, Neil Hobbs.
A good time was had by all. The artworks varied greatly in form, style and materials. There was definitely something for everyone. People obviously agreed as there were sales underway. I was gazing at three ceramic chooks in one garden bed, when someone appeared beside me and whisked one away. I presume it was a purchase.
I can imagine the team work to bring it all together. The exhibition was on private property so they did not have to bother with all the local government approvals and queries and bureaucratic process that government officers tend to make up for such events.
here are some photos: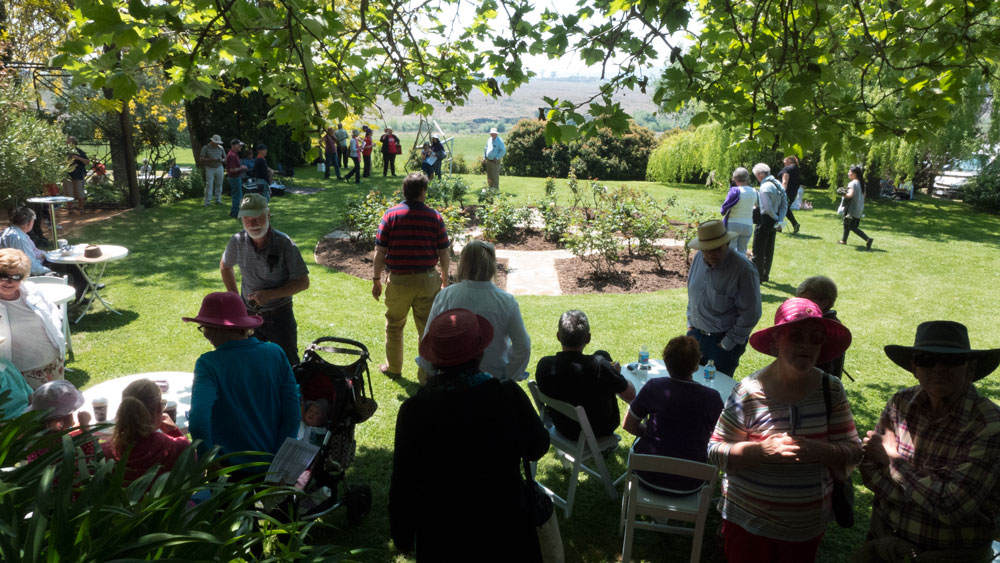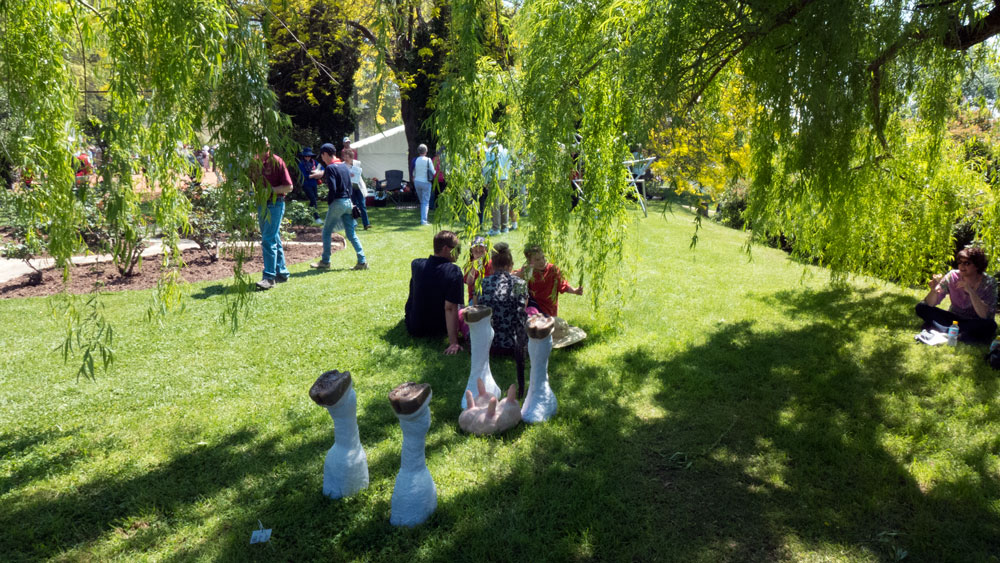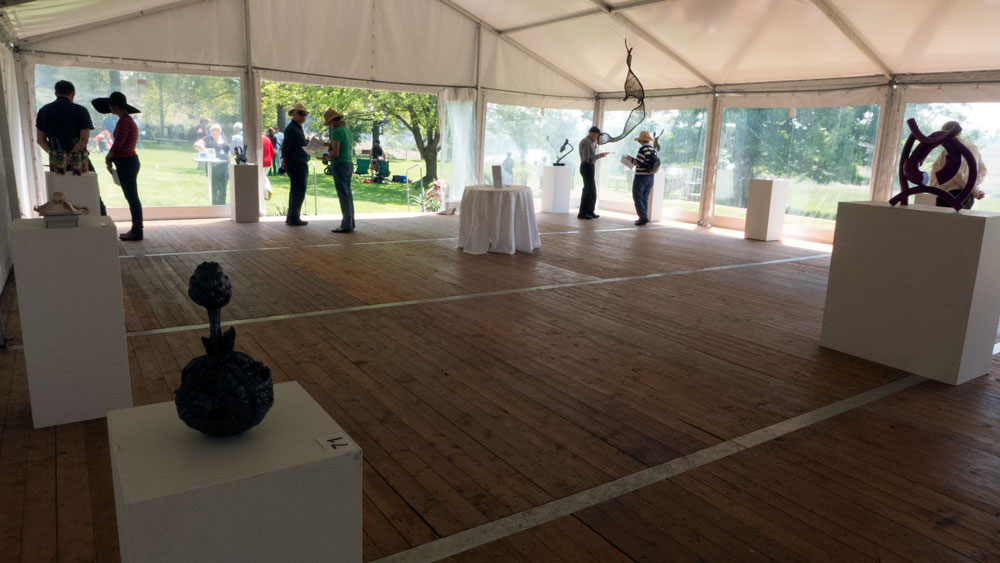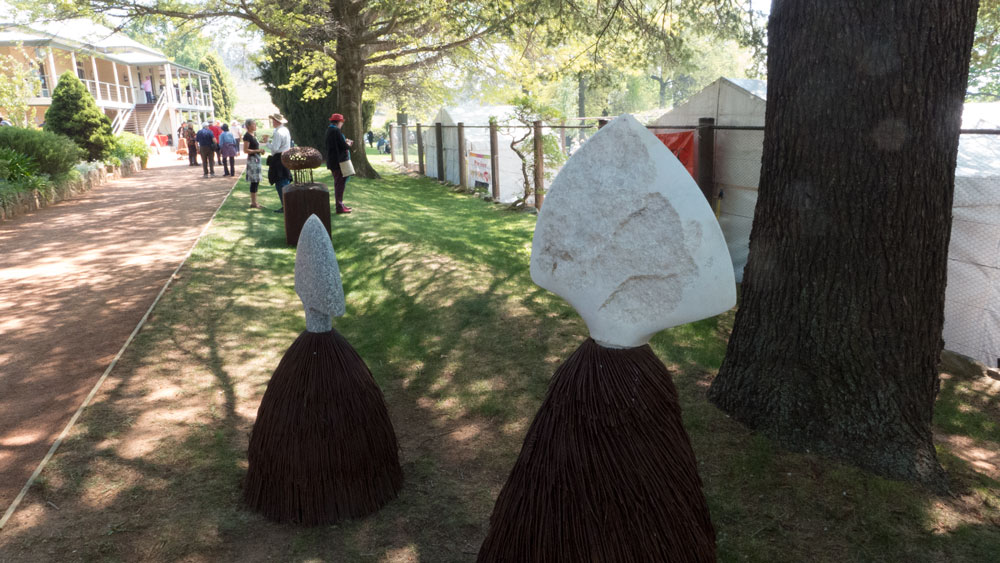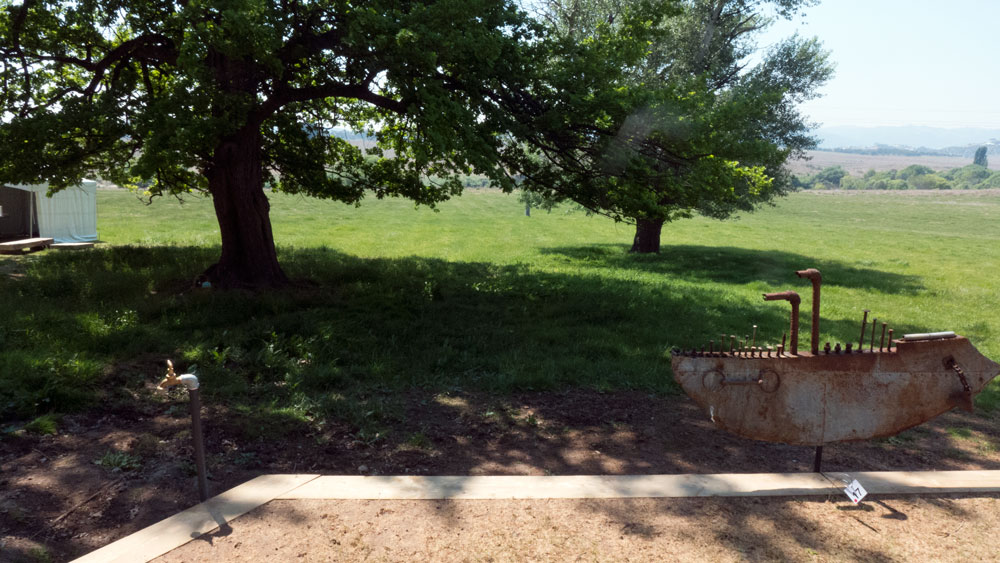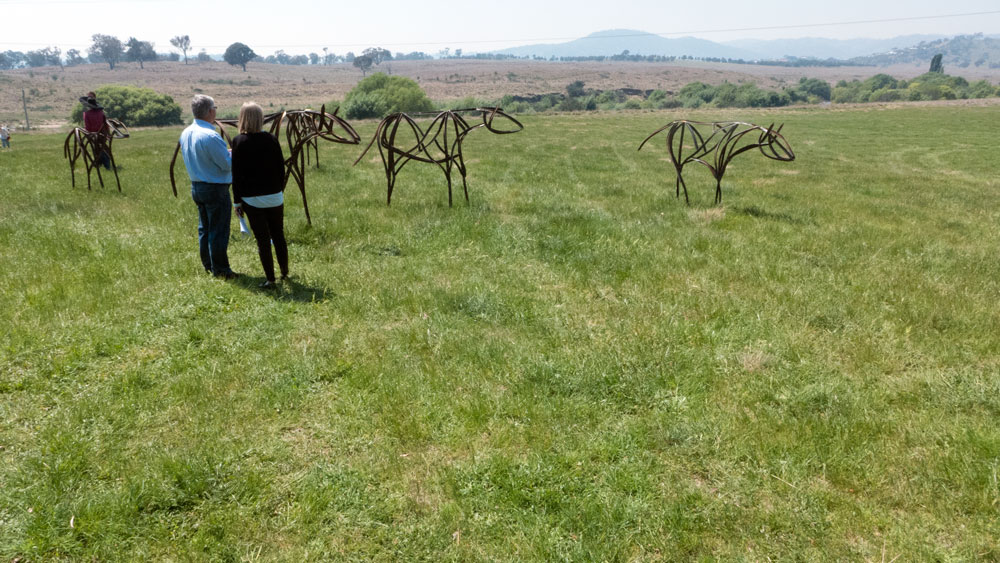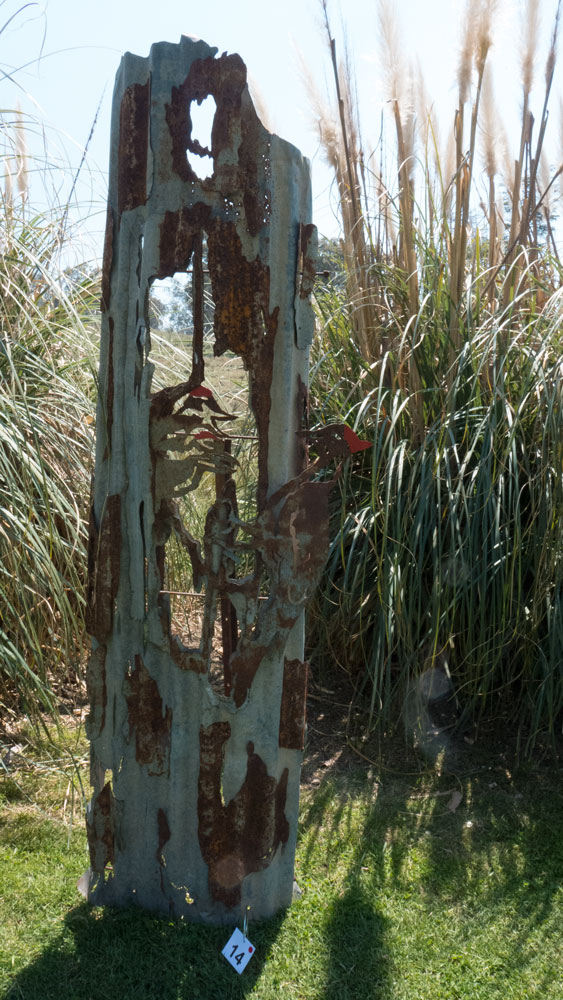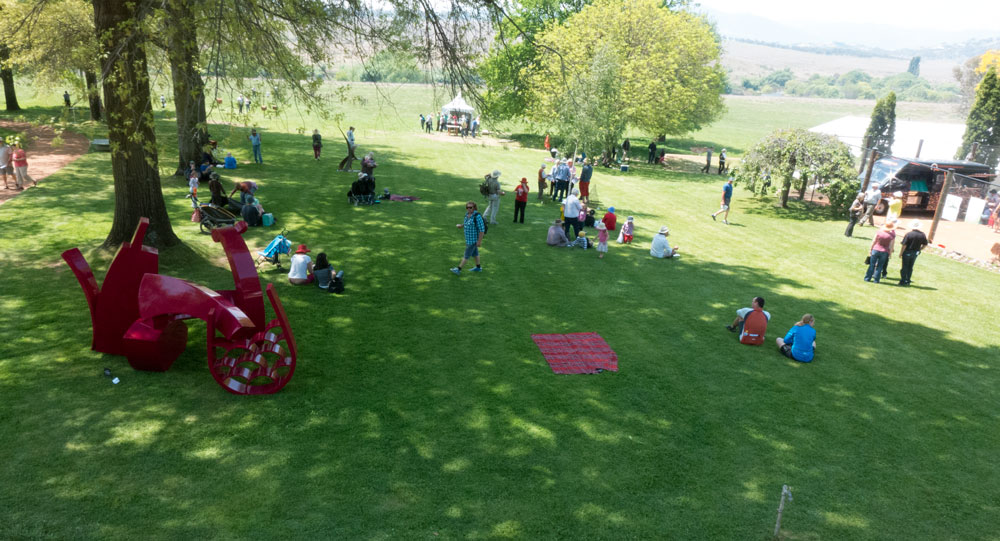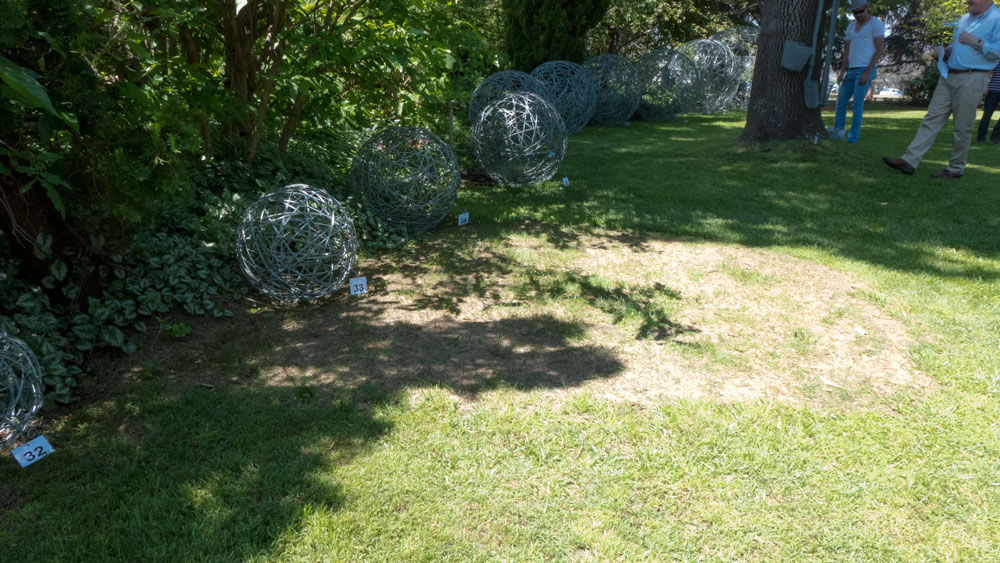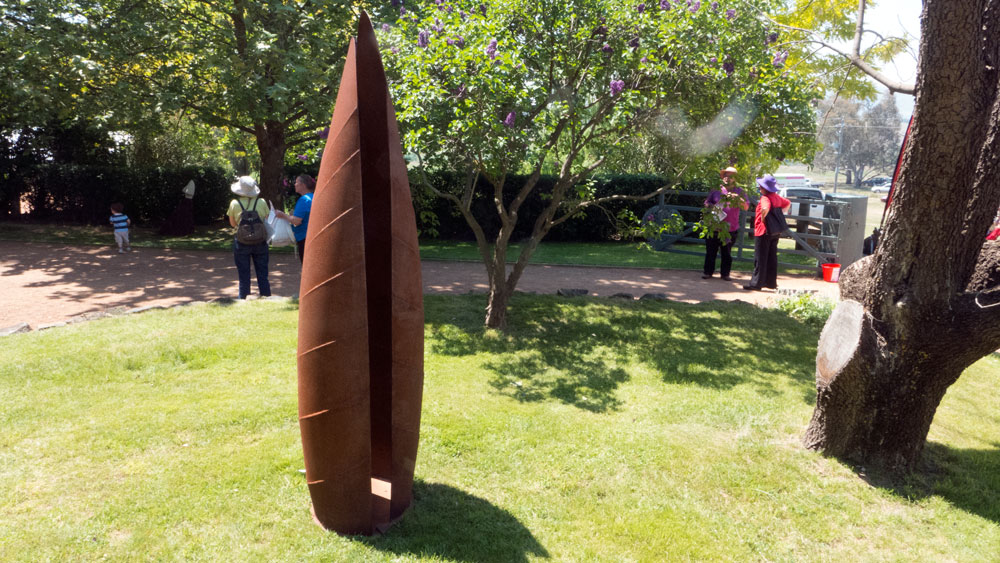 and just when he thought he could hide and take a rest, here's Neil about to be disturbed.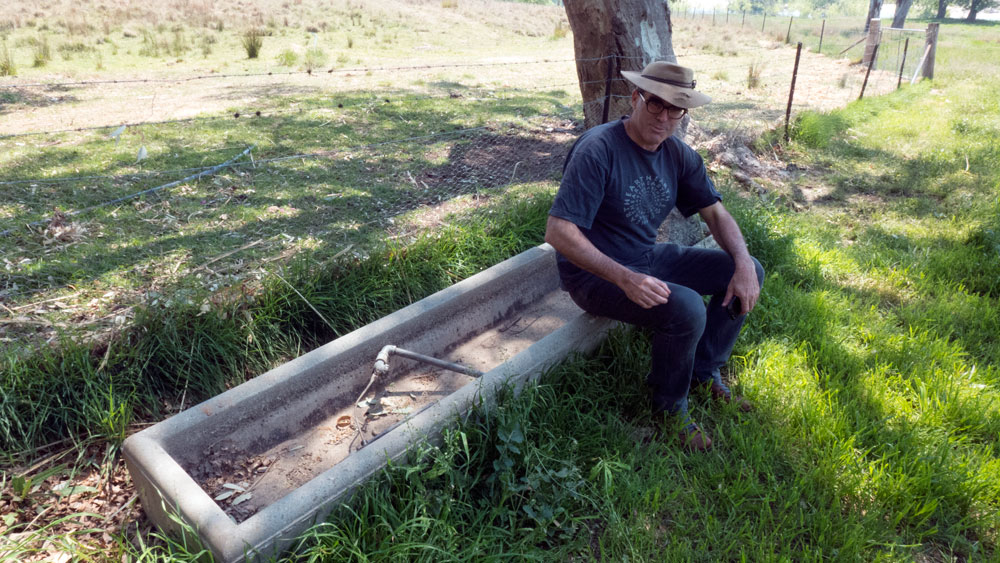 Canberra really needs more of this where people enjoy art and local artists get to showcase their work. Many of the artists were there today to talk to visitors.
A great day out. Well done all involved and well done Neil.
I am imagining that even after all the hard work, that the organisers can see the obvious. Sculpture in the Park works in Canberra. Sculpture needs space to be enjoyed and parks are great for this. Local artists have something to brag about; and they like sales.
One wishes that someone could set aside some resources for such an initiative to allow it to be held regularly. But where else could it be located in Canberra so that it would attract even more patronage? It needs to stay accessible and to involve local artists as well as attract others. However I suspect that any plans for something bigger and better may involve the dreaded arts bureaucracies and as we all know, by their nature they love to tie things up with too many strings and complications. Now there's a dilemma.
and yes, we were in the countryside.