Music Review
Give My Love To London, Marianne Faithfull, 2014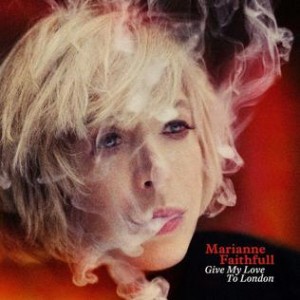 First a warning: Smoking is bad for your health.
This album from Marianne Faithfull sees her return to a style close to that of her 1979 album, Broke English – which remains a great piece of music. I recommend this music. Those who have followed her music will really enjoy this album.
Marianne has penned a series of songs that allow her to voice the views of a host of characters. There's been a wonderful series of collaborations, with assistance with the music, the writing and the adaptations of others people's songs. There are links to artists such as Leonard Cohen, Patrick Leonard, Roger Waters, Steve Earle, Nick Cave and others.
In delivery this album, with six of the eleven songs involving her in the writing, Marianne Faithfull has used other characters to provide insights into her reaction to people, places and circumstances over the last decades. This is a great piece of music.
Some people do not slow down. As for this artist, she is 67 and has had a difficult recent medical history – cancer and a fall that broke her sacrum in four places – she is one amazing musician!
he she is performing – note the stick.
the recorded version of the same song
That warning: Smoking is bad for your health.
Recommended: Rating 8/10
————————————-
Paul Costigan