Review: TV Program 2013
The Village – viewed on DVD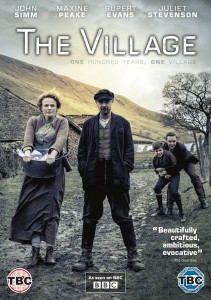 I commenced watching this program with some doubts thinking here we go again with more north country grime, bleakness and seriousness. Actually the first episode was more or less that. But somehow having Maxine Peake as a main character begged me to stick with it.
And I was very glad I did. This one built slowly but once the characters develop and the plot expands in complexities, it demands watching in rapid succession – late nights resulted.
So I am not going to recommend this series to everyone.
It has great messages about relationships and some historical perspectives on the growth of unionism, on feminism, on how people, mainly women, were able to share to survive some very trying times and very basic living conditions. And then there was World War One and what it did to villages such as this one and how those who survived had to deal with some very painful events.
Oh yes, it is a great program and  Maxine Peake is fantastic. The complexities of the human condition is very absorbing. Another great part is played by Juliet Stevenson.
Be warned, this is one of the programs where they gradually grow the characters and the complexities over many episodes. If you want to be able to jump in and work out what it is all about in the first episode or two,  then this may not be for you.
I am not sure how it would go on live TV as weekly episodes over months. It definitely was great to watch it in continual sessions over days instead of months.
Recommended: Rating 8/10