Review: TV on DVD
The Politician's Husband (2013)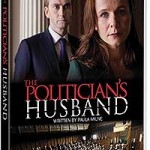 This three-part series, stars David Tennant, Emily Watson, and was written by Paula Milne, the writer for the former The Politician's Wife (1995). Speaking about the show Milne said, "I wanted to explore the way that men feel about their wives becoming more successful than them – that's an interesting dynamic to set against the power games in Whitehall."
I think you can gauge the general theme of the program from her comments. The series lives up to that goal.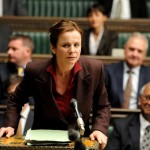 The main thrust is that as the husband's career crashes, mainly through his own foolish ambitious efforts, the wife's career suddenly opens up and she significantly moves up the political ladder.
Emily Watson plays the role beautifully as a woman who has had to quietly suffer by staying in the back seat to be supportive of her husband at the cost of her own career.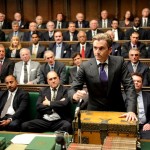 The power couple have two children. The son has Asperger's and this adds opportunities to see how the couple individually handle this situation as parents with demanding careers.
David Tennant often plays the good guy. In this he is a very bad guy – a sleaze – and dirty player capable of all sorts of nasties. He plots revenge. He pretends to be open and transparent. He is a politician!
There's a cliché or two to be endured, but overall the series is very enjoyable, especially if you can watch the three episodes fairly quickly on DVD.
This is a morality tale with much enjoyment to be gained from watching the power games as enacted by the lead players. It is always good to watch a program about all those political shenanigans we know happen, and in this case with the complexities of the two main characters being married to each other and both important politicians within the same government.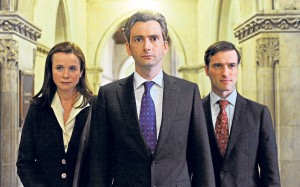 There is a lesson in the story about loyalty and respect and values. Sometimes those close to you, when tested, do not always remain true to their stated ethics and values as you may have expected. This is one of those lessons that some have experienced too many times. Slow learner? Such is life!
Here's a trailer:
This program is recommended.
see also The Politician's Wife (1995) by the same writer
———————————————–
Recommended: Rating 8/10
———————————————–
Paul Costigan, 25 March 2014