Fiction Gallery:

Penelope Jones, 
An important princess
Do you know Penelope Jones?
Penelope is an important person.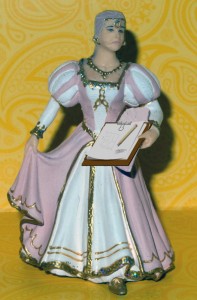 Penelope Jones attends gallery board meetings as well as numerous other 'important' committees that are obviously very important committees for her to be on. Nobody is quite sure why Penelope is on these committees other than historically she has always been in the right place at the right times to be offered such appointments.
When Penelope attends meeting she performs as the most important and best informed person in the room. She always insists on having final word on things as she believes that with her academic background and knowledge of all the global issues, she is best placed to be the one that everyone should look up to any meeting or  debate. Penelope Jones is an important person.
People notice that Penelope always sits towards the middle of the table. Usually everyone in attendance defers to her opinion. Unfortunately Penelope, even though she is an important person, is often capable of offering what turns out to be incorrect and naive advice. Luckily for Penelope it is rare that anyone present would openly correct her advice. In this way Penelope Jones has continued through later years convinced of her own importance.
Luckily for Penelope Jones, because she is important, she has a very dedicated staff and assistants within her own gallery. These people have done a great job over the years of assisting Penelope to research and write important papers. They have ensured that Penelope's reports and articles have been edited and corrected. They know that Penelope came into her important senior position at a  time when entry standards were easier and people, such as Penelope, were in the right place at the right time and knew the right men.
In those earlier years Penelope was mentored by so many of leaders of the time, who of course were all male and impressed with such an active young woman making her way amongst them. These leaders were able to create and secure this senior management role for her. It was fortunate that Penelope was able to be so friendly to so many of these leaders. These relationships have ensured that Penelope Jones is an important person.
Penelope often travels into the CBD or interstate to attend meetings. As she is an important person, she makes best use of the paid travel opportunities  to also attend other business meetings. This means at times she has to take calls during the meeting she is paid to attend. It also means that she arrives little late as she has already squeezed in other business. Unfortunately given her busy schedule, she always has to leave early to get to her other meetings. Other people at the meeting have come to accept that people, such as Penelope Jones, have so many important things to do and understand that their time is not as  important as Penelope's.
Penelope, being an important person, is a great advocate for many causes. She is capable of gaining lobbying appointments with senior bureaucrats and politicians. Anyone who has observed her at these meetings would be impressed that she is always seemingly well prepared and takes the matters very seriously and comes with briefing papers prepared by her assistants or other specialists. Penelope usually finishes these meetings with a quick briefing and lobbying effort about her most important subject, the work she is personally working on through her private business.
Politicians and senior bureaucrats understand that Penelope Jones does this and they have come to accept this as her normal behaviour, even though she was booked to talk about the advocacy for totally another reason. Penelope therefore has continued this practice as no-one has ever challenged it. This is the life of such an important person.
Penelope Jones makes best use of social events to ensure that she stays abreast of what others are doing and planning. At social events Penelope Jones is very friendly and interested in the work and projects others are undertaking or planning. Penelope is always generous with her comments about others when she believes anyone needs to be warned that someone they are dealing with may not be the person they thought they knew well. Penelope Jones speaks with authority in making criticisms of others. This is something she is skilled at doing during social events when people have otherwise come together to relax.
Penelope Jones strives to be 'a fixer' when it comes to doing any form of business. She has a bureaucratic mind as if she is always carrying around a clip board ready to take notes and to offer advice. She worries about the details and ensures that people with vision do not get carried away too much. She knows how important it is to be bureaucratic in your approach to doing daily business and therefore offers such advice constantly at meetings.
Members of committees with Penelope usually end taking the option of moving to other boards in order to allow Penelope Jones more free rein to deliver her form of sensible bureaucratic business style to the organisation. Penelope's style of contributing to meetings may have caused strain given the nature of a gallery but so far this has not stopped Penelope Jones operating like this. Luckily for Penelope, she has not awareness of this negative effect on others.
Also given the importance of Penelope Jones, most have seen more benefit in having Penelope Jones present than have too greater creative vision for the future of the organisation. This of course sits very well in the context of political thinking and practice in the early part of the 21st Century in Australia. It is so much easier to be bureaucratic rather than creative and visionary.
So for now, Penelope Jones continues on many committees and has been able to provide very sensible and timely contributions. Visionary people have worked out that is not appropriate to change course and have usually departed to reconsider life, the universe and other things that may just be too complex to share with people such as Penelope Jones.
For the majority, being silent and compliant on issues has turned out to be far more acceptable and an easier way to keep on side with important people, such as Penelope Jones. This results in more people feeling secure that their organisation sits well in such conservative cultural and political times.
Life is good for Penelope Jones.
——————————————–
All characters appearing in this work are fictitious. Any resemblance to real persons, living or dead, is purely coincidental.
This post is part of an ongoing series of fictional characters being developed for a series of stories, yet to be titled.