Music Review
Steve Earle & The Dukes, Terraplane, 2015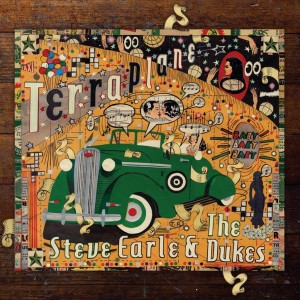 If you already like the music of Steve Earle, then this is easy for you. This is a good album. It is not quite his usual. Steve is having some fun and is accompanied by close colleagues – The Dukes. The music is Texas blues, Steve Earle style. This form of blues takes several directions, wandering across Americana, a little Delta, a southern stomp here and there and a little southern grizzle along the way.
Having said that Steve Earle is having fun is not quite right. These are songs about Steve Earle not quite having a good time —but that's what the blues is all about—and that is what makes this music always good to listen to.
Recommended: Rating 8/10
————————————–
here's a couple of the sings. The first being an acoustic version—or a Porch Song—You're The Best Lover That I Ever Had.
Baby's just as mean as me
Steve Earle – "Ain't Nobody's Daddy Now" (Acoustic)
Here's 14 minutes of a live interview
————————————————-
Paul Costigan