Music Review
Rhiannon Giddens: Tomorrow Is My Turn, Feb 2015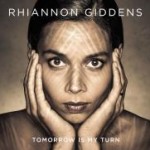 This album, the first for Rhiannon as a solo artist, features a woman with a strong voice who is singing songs about women written by women. Rhiannon Giddens wrote just one —the last one. The musicians on this album do a fabulous job – and together it is one beautiful experience. Some people may have some difficulties, as she has collected 10 songs from very different sources.
It is album of many styles. There's a touch of Americana layered with gospel, celtic folk, blues and soul.  The collection may not seem to make sense, but rest assured Rhiannon Gidden's voice and the production brings it all together as music to be enjoyed – a lot!
Rhiannon Giddens is not new to the music world. She has a very successful career as the lead singer to a band she formed, the Carolina Chocolate Drops. If you want to hear some of their music (there's about 6 albums), start with their 2012 album, Leaving Eden.
Rhiannon Giddens' Tomorrow Is My Turn is totally recommended.
A warning – watch out for the third track – Waterboy – it just might blow out your speakers if you not ready for the blast that accompanies her amazing voice on this. The story is that when she performed it for the first time – the audience was stunned and took to their feet with applause.
Recommended: Rating 9/10
—————————————————————
Tomorrow Is My Turn
Waterboy