Review: Music
Kelly Hogan – I Like To Keep Myself In Pain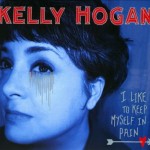 Kelly Hogan does not fit well into the simple music categories. On this album the sound is a mix of many styles, being a bit of pop music, country, club blues and any combination or versions of the above and more. She has a great voice.
She is a friend and backing singer for Neko Case, so the one song here by Kelly, Golden,  is in honour of her friend.
The album sounds very unified but in fact the sounds, except one, were all requested by her from her fiends.  Kelly Hogan inhabits these songs and the delivery is very much from her point of view. While there is passion, and tone of being aggrieved, there are many laces of irony. There is fun as well as some anger.
I have played this album often on different systems, and it plays well loud.  I have to say the CD sounds great when driving.
Three great live little performances of  Haunted,  Plant White Roses, and I Like to Keep Myself in Pain.
Another live version of "I Like To Keep Myself In Pain"
Kelly talking about the making of the CD, as well as some insights into the album songs.
———————————————-
Recommended: Rating 8/10
———————————————-
Paul Costigan. 12 March 2014