Music Review
John Mayall: A Special Life, 2014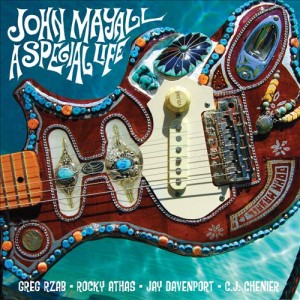 When I first listened to the Bluesbreakers in the 1970s, I was listening to music that was almost ten years old. Good heavens, how uncool was that!
John Mayall was making his form of blues in the sixties, in the seventies – and now in the 21st Century he is still pumping it out. How cool is that! Back in the seventies no-one could have imagined that we would be listening to the same guy in 2014 as he turned eighty.
To put it simply, on A Special Life, John Mayall sounds just like John Mayall at his best. As many others reviewers say  – The Godfather of British blues is back. Having influenced so many in his fifty year career as a musician, he is setting the scene for those others blues musicians who think that you slow down in your senior ages.
There are four of John Mayall's own song on this album. There is even a little politics creeping into his performances. "World Gone Crazy" takes a swipe at all the stupidity of not heeding the warnings of climate change.
On A Special Life, John Mayall is bringing together his musical experiences of the former six decades. He has used the same band as on his previous, Tough, album (2009). A Special Life could be the best John Mayall album we have heard for quite some time. Having said that, there are many good John Mayall albums from the last decade – so maybe I will post some other reviews of those some time later.
For people who love the blues, who love John Mayall, this is one very entertaining treat.
Here's a couple of other reviews just in case you need convincing:
Here's the first – click here. and another – click here. and one more – click here.
Recommended: Rating 8/10
————————————–
Paul Costigan