Review TV program on DVD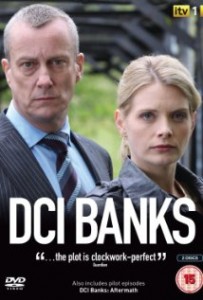 While series four of DCI Banks is being aired in 2015, I have only now made my way to view the original 2010 series. This is the classic sort of made for TV crime series. The lead character fits the usual profile being a bit of a loner, lives by himself, there's an ex wife and children out there, and does not hit it off with his boss.
The scene is somewhere in East Yorkshire, so there's lots of country settings and not too many blue skies. The plots so far are quite good and have avoided the over complicated story lines of many of the current crop of crime stories. Each episode has its scene or two that makes you wonder about the story line but that's normal in any of these TV dramas. Occasionally the plot wanders a bit. I suspect over time the plot will reveal more of their personal lives but for now we have more than enough.
Yet again the main character, being DCI Banks, has an idiot for a boss. There is a trend here in so many of these police dramas whereby the top brass is either thick and/or corrupt, they are constantly interfering and seem never to appreciate the winning team that works for them. Is there a message here about those in charge of our police forces?
My rating below is based on a judgement of this type of police/crime drama which I happen to favour.
Recommended: Rating 7/10
————————————-
Paul Costigan